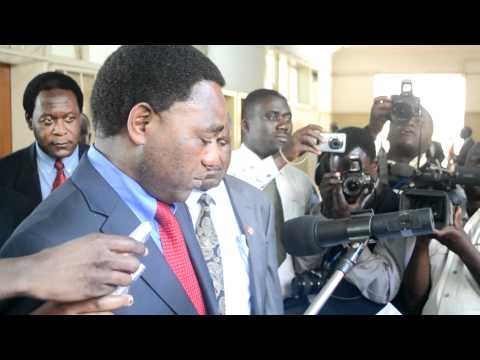 His Excellency The President,
Mr. Michael Chilufya Sata,
State House
Lusaka
Your Excellency,
THE NEED FOR A NEW CONSTITUTION
We write again on behalf of many Zambians on the above captioned subject.
We are happy that you answered our call and you are back from where
you were to face the challenge of delivering a new constitution.
We put it to you that there is growing national consensus among the
citizenry that the delivery of a people driven constitution should be
your administration's number one (1) priority in this jubilee year.
We have however noted with great concern your unpatriotic and
divisive comments on the constitution. During your last address to
Parliament in October 2013, you stated that there was no need to rush
the constitution making process because Zambia was not facing a
constitutional crisis. Most recently, on Wednesday 12th February
2014, at State House during a swearing in ceremony, you stated that
people who spoke about the constitution should be ignored because
Zambia already has a constitution.
We have studied your comments and our response is as follows:-
2/….
1 Your clueless policy of ignoring citizens is creating unnecesary
tension and acrimony in the country. In a functioning democracy,
Presidents do not give citizens the "silent treatment" but engage
them. We demand that you come out of your new hideout facebook and
address the nation directly on the constitution.
2 Your battle cry for the September 2011 election that lifted the
hopes and aspiration of Zambians was the promise to deliver a people
driven constitution within the first ninety (90) days of the
Patriotic Front's administration. Reneging on this pledge after
getting the vote is tantamount to obtainig electoral victory by false
pretences. It is criminal!
3 Your hypocrisy has reached alarming proportions. A few questions
will help illustrate our point:-
a. When you were campaigning in 2011 and promising voters a new
constitution, didn't you know that Zambia already had a
constitution?
b. When you were opening parliament on 14th October 2011 and
promising Zambians a new constitution, didn't you know that
Zambia already had a constitution?
c. When you set up a technical committee to spearhead the drafting
of a new constitution,didn't you know that Zambia already had a
constitution?
The answer to the above questions is that you knew, therefore your
recent utterances only confirm your hypocrisy
4 Your current position on the constitution if taken seriously implies
that you orchastrated plunder of national resources to the tune of
K154 million (K154 billion old currency)
5 Finally we find your current position to be illogical. Life is all
about improving what you found. Yes we do have a constitution , but
this does not stop us from seeking a better one
In conclusion, your administration's u-turn on the delivery of a
people driven constitution is a direct assualt on the people's jubilee
dream. Zambians demand that your administration quickly re-aligns
itself with the aspirations of the majority on this matter and
facilitate the delivery of a people driven constitution.
Yours faithfully,
Hakainde Hichilema
PRESIDENT
Cc. The Executive Director, NGOcc
Cc. The Exective Director, Zambia Council for Social Development
Cc. The Executive Director, FODEP
Cc. The Executive Director, ZaCoMef
Cc. The Executive Director,Operation Young Vote
Cc. The Executive Director, Oasis Forum
Cc. The Executive Director, Panos Institute, Southern Africa
Cc. The Executive Director, YALI
Cc. The Executive Director, Zambia Episcopal Conference
Cc. The Executive Director, Christian Council of Zambia
Cc. The Executive Director, Evangelical Fellowship of Zambia
Cc. The Country Director, Action Aid
Cc. The President, Law Association of Zambia (LAZ)
Cc. The President, Movement For Multi Party Democracy(MMD)
Cc. The President, United National Independence Party (UNIP)
Cc. The President, Forum For Democracy and Development(FDD)
Cc. The President, Allaince For Democracy and Development(ADD)