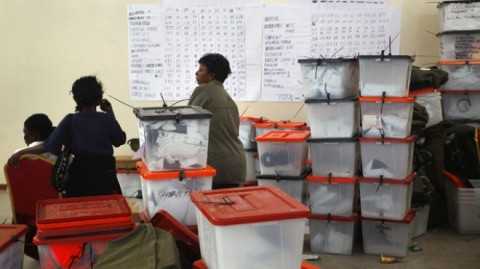 THE Southern African Centre for Constructive Resolutions of Disputes (SACCORD) has cautioned candidates contesting the Katuba parliamentary by-election to desist from engaging in politics of hatred and tribalism but instead tell the electorate what they will do for them if ushered into office.
SACCORD executive director Boniface Cheembe said the people of Katuba should reject careless and dangerous tribal talk that is being propagated by some politicians during the campaigns ahead of the February 25 by-election.
The Katuba seat fell vacant after the death of area member of Parliament Patrick Chikusu in December last year.
Mr Cheembe said in an interview in Lusaka yesterday that political leaders should avoid the temptation of sowing seeds of tribalism as this can divide the nation.
"Zambia still remains a unitary state and Zambia is governed on the principle of one Zambia, one nation.
"It is because of this that we have to remain united as a nation and not to divide ourselves because of politics," he said
He said all stakeholders must ensure they promote peace in the run-up to the by-election, adding that political parties should also abide by the electoral code of conduct.
Mr Cheembe said his organisation is interested in seeing that political parties conduct their campaigns in a more peaceful manner than engaging in activities that could disrupt the peace that the people of Katuba are currently enjoying.
He also called on political leaders not to use youths as mercenaries of political violence in Katuba.
Mr Cheembe said political leaders should realise that they have an obligation of engaging youths in productive activities instead of engaging them in matters that can affect the welfare of the nation.
And the Patriotic Front (PF) says it is not shaken by allegations by the United Party for National Development (UPND) that its candidate Moses Chilando comes from the Democratic Republic of Congo (DRC).
PF Central Province vice-chairman Chanda Mwaba said in an interview that the opposition political parties know that PF has done a lot of work to secure a landslide victory for Mr Chilando in the by-election.
"Moses Chilando is not a foreigner. He is a Zambian who has stayed in Katuba for quite a long time," Mr Mwaba said.
"I know him, he is from Luapula Province and not Congo or any other country."
Mr Mwaba urged the UPND to be issue-based in its campaigns and that if the opposition political party is convinced that Mr Chilando is a foreigner, it should lodge a complaint with the conflict management committee in the area.
Mr Mwaba said the PF cannot sink so low as to adopt a foreigner because doing so would be contrary to the laws of the country.
He said the UPND should not dwell on "petty issues" when they fully know that Mr Chilando is a Zambian.
He said Mr Chilando is a well-known person in Katuba and this is why he stands a better chance of being elected on February 25.
The UPND is fielding Jonas Shakafuswa, Alliance for Better Zambia (ABZ) Patricia Mwashingwele, Joseph Mushalika is standing on the National Restoration Party ticket and Shakespeare Mwakamui is representing the National Revolution Party.
UNIP and MMD have adopted Allan Malawo and Cecil Holmes, respectively.