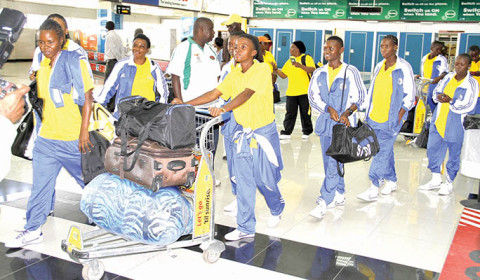 Zambia national women football team,  She-polopolo,  will take a 2-1 lead into the second leg of their 2014 African Women Championship preliminary round qualifier after a late goal handed Tanzania a lifeline in the first leg played at Nkoloma Stadium on Friday.
Going into the 90th minute the Zambian ladies appeared in cruise control thanks to Hellen Mubanga's 77th minute opener and an own goal two minutes later by Sophia Mwasikili only for left-back Donasia Daniel to pull one back with a long range effort which was virtually the last kick of the match.
Zambia women national team interim coach Charles Bwale said his team would consolidate its advantage going into the return match in a fortnight.
"I am happy with the result and the way the girls performed. We will work hard so that when we go to Dar es Salaam in two weeks' time we can come back with a win," Bwale said
And Tanzania coach Rogasian Kaijage said his team was confortable on the ball until the conceded in the dying moments of the match.
"It was a balanced match, like a see-saw but my girls stopped playin when Zambia scored the opening goal. The second goal killed the game completely but we managed to score one goal and that is to our advantage. At home instead of playing to score one goal we will play to win the match; that is what is important," said Kaijage
"We did not know how Zambia plays. We have seen that they have two or three skilled players and we shall manage to contain them in Tanzania," he added
The return leg will be played in Tanzania on Friday February 28. The winner of the tie will play either Botswana or Zimbabwe in the second and final qualification round.