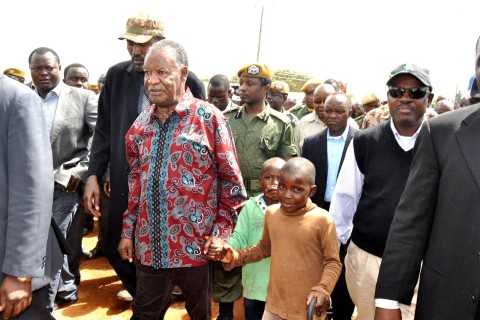 PRESIDENT Michael Sata has dispelled speculations that he is sick following recent claims by some sections of the social media that he was not in good health.
Mr Sata said when he addressed a rally to drum up support for Patriotic Front (PF) candidate Moses Chilando in the forthcoming Katuba parliamentary by-election that the people who were sick were those that did not know their fathers.
And Gender Minister Inonge Wina said she left the United Party for National Development (UPND) after the death of its founder Anderson Mazoka because the party had become tribal under the leadership of Hakainde Hichilema.
Addressing a mammoth rally in Katuba Constituency yesterday, the President said in apparent reference to the UPND leader that those that were sick were those who could not tell the nation who their fathers were.
President Sata challenged Mr Hichilema to tell the nation who his father was instead of speculating about the health of others.
"My father is Mubanga Sata," Mr Sata said amid cheers from hundreds of people who attended the rally at the Mwanjuni Basic School grounds.
"Who is Hakainde Hichilema's father? He does not know where he comes from."
President Sata also revealed that it was him and late second Republican President Frederick Chiluba who tasked Mr Hichilema to implement the privatisation of the mines.
The President, however, said it was unfortunate that the first thing that the UPND leader did when he was appointed to privatise the mines was to acquire himself a house.
Mr Sata also called on the people of Katuba to vote for the PF candidate in order to enjoy unprecedented development in the area.
President Sata, however, said it was up to the people of Katuba to decide who they wanted to represent them in Parliament.
Mr Sata said he was saddened with the fact that Katuba Constituency had remained underdeveloped and had not changed from the time he last visited the area.
He revealed that he was the one who had taken electricity to Katuba when he served as minister of Local Government and Housing.
Speaking at the same rally, Ms Wina said she left the UPND because the opposition party had become tribal since Mr Hichilema took over its leadership.