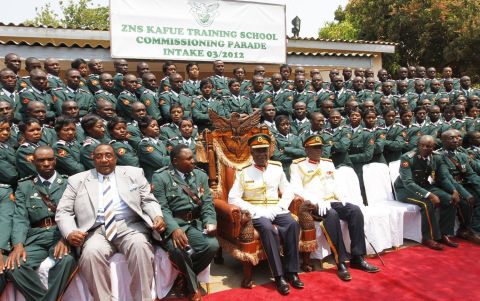 President Michael Sata says the Zambia National Service (ZNS) has during the 2013- 2014 season managed to cultivate over 1,225 hectares of maize, soya beans and wheat.
President Sata says this is part of his administration's efforts to increase agricultural and industrial production through the ZNS and the Zambia Prisons Service (ZPS).
He said during 2013, government through the ZPS established the Kalonga Milling Plant with capacity to produce 3200 x 25kg bags (80 metric tonnes/24 hours) of mealie-meal per day at a total cost of K5.3 million.
The Republican President said this on daily facebook page today.
Break-fast and Roller meal are the main products while maize bran is the by-product from the plant, he said.
He said he sent Finance minister Alexander B. Chikwanda to commission this plant late last year.
" You may wish to know that our Government has allocated a total of K22 million in the 2014 fiscal budget which will be used to increase agricultural production by the Zambia Prisons Service by expanding Chitumba Farm to 5000 hectares of land and recapitalise it with modern equipment fully by 2016, " he said.
He has explained that it is worth noting that the milling plant will not only mitigate the huge cost implications of feeding inmates, but will also provide cheaper and affordable mealie-meal to the general public particularly in Kabwe and the surrounding areas as well as a ready market for maize from the local farmers.
" I would like to implore the ZNS and Zambia Prisons Service to triple their maize and soya bean production to the satisfaction of the Zambian people and thereby mitigate in the pricing and availability of mealie-meal and stock feed in the country.
" This concept by the ZNS and the Zambia Prisons Service is brilliant and deserves commendation, " the President concludes.