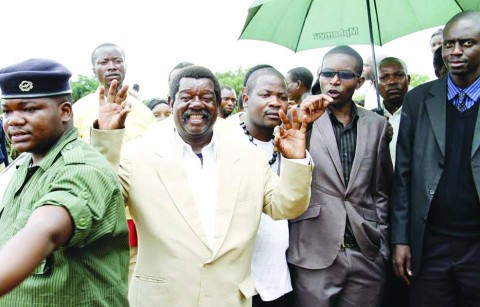 GOVERNMENT has condemned the beating of National Revolution Party (NRP) leader Cosmo Mumba by unknown people in the on-going Katuba Constituency parliamentary by-election campaigns.
Information and Broadcasting Services Minister Mwansa Kapeya said in a statement yesterday that the beating of Dr Mumba was unacceptable and warned that the culprits would be brought to book.
"The Government condemns the beating up of National Revolution Party president Dr Cosmo Mumba by unknown people in the on-going Katuba parliamentary by-election campaigns.
"This is unacceptable and culprits behind the act are warned that they will not escape the long arm of the law," he said.
Mr Kapeya said Government was proud of the people of Katuba for the peaceful and dignified manner in which they have conducted themselves ahead of the February 25, 2014 by-election and thus it would not allow thugs to disrupt the peace.
Mr Kapeya said the people of Katuba like others elsewhere deserved and were entitled to a free, peaceful and conducive atmosphere to exercise their democratic right to choose a Member of Parliament (MP) of their choice.
Mr Kapeya reiterated that the former area MP Dr Patrick Chikusu left an impeccable legacy of selfless, dignified and distinguished service to the nation.
"As such, it is necessary that the process of finding a successor for such a distinguished leader and patriot is equally dignified and orderly," Mr Kapeya said.
He on behalf of Government has since wished Dr Mumba a quick recovery. Seven candidates, among them from the Patriotic Front, UNIP, MMD, United Party for National Development, National Restoration Party (NARAP), NRP and Alliance for Better Zambia are contesting the Katuba Constituency election whose seat fell vacant after the death of Dr Chikusu last year.