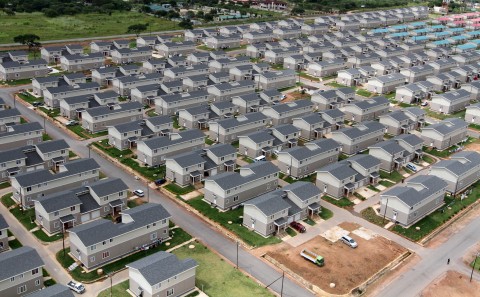 GOVERNMENT says it is mobilising funds outside the national Budget to construct more than 25,000 housing units for officers in all departments under the Ministry of Home Affairs.
Home Affairs Minister Ngosa Simbyakula in an interview on Tuesday said the Government would ensure that all departments under his ministry had adequate housing units.
Dr Simbyakula said the departments to benefit from the housing project would include the Zambia Police Service, Zambia Prisons Service and the Immigration Department.
"We are trying to source for funds, we are hopeful that funds will be acquired and build more than 25, 000 houses for all departments under the Ministry of Home Affairs countrywide," he said.
Dr Simbyakula said the construction of the housing units would help lessen the accommodation crisis faced by the security wings.
The minister reiterated Government's commitment to providing good accommodation to the security wings and to all civil servants in the country.
And Police and Prisons Commission chairperson Alexander Maseba has said the police and Prisons Service have continued to operate under difficult conditions, making law and order enforcement a challenge
Mr Maseba said this on Monday when he paid a courtesy call on Copperbelt Minister Mwenya Musenge at Cabinet Office in Ndola.
He said shortage of accommodation, transport, uniforms and equipment were still a source of concern.
"The commission has been drawn to many challenges affecting the police and Prisons Service in bringing law and order in the province which include accommodation, transport, and equipment, among others," he said.
Mr Maseba also said non-payment of allowances to officers was one of the problems that caused corruption in the service as some officers were reported to get money from clients and offenders.
He said the commission would work with all stakeholders to supplement Government's efforts in addressing the challenges in the police and Prisons Service.
Mr Maseba said the commission would also continue sensitising officers on the dangers of corruption.
And Mr Musenge expressed concern at the slow response to community concerns by the police.
He said he had observed that police officers had prioritised providing security to vehicles that park at police stations because of the money they raise from the venture.
Mr Musenge said police officers should not take guarding vehicles at police stations as their core business, but instead work harder to maintain law and order.
He, however, told Mr Maseba that officers in the province lacked proper infrastructure, equipment and transport to enforce law and order.
Mr Maseba and other members of the commission would be in the province for 20 days to study the environment and the conditions under which officers operate.
Times of Zambia