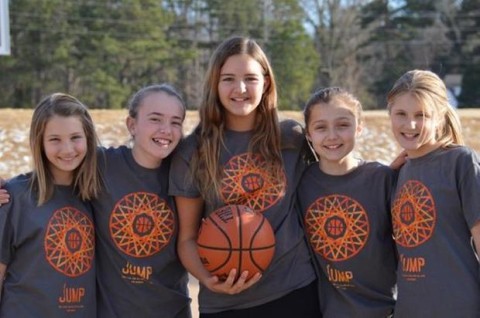 When Sarah Schulz read Austin Gutwein's book "Take Your Best Shot" last summer, she was inspired by the story of how the then-13-year-old founded a charity that used basketball to raise money for children orphaned by AIDS.
"Every night at dinner, she was teaching us about AIDS orphans, said Sarah's mom, Wendy Schulz. "She'd come to dinner with different statistics every day. … We could just tell that the book was really speaking to her."
So Sarah, who has played basketball for about two years, and her mom went online to find a local Hoops of Hope event they could participate in – and found nothing.
"Pretty quickly she came back to us and said 'I think God wants me to do the event for Raleigh,'" Schulz said. And so, with the blessing of the national organization, a Hoops of Hope chapter for Raleigh was born, and its first act is hosting a free-throw marathon Feb. 21 at Trinity Academy in Raleigh, where Sarah is a fifth-grader.
Sarah is hoping to raise $25,000 through the event, which is supported by individuals and teams who bring in donations and participate. The money will go toward building a health clinic in Zambia through Hoops of Hope partner World Vision. Specifically, Sarah said, the money raised in Raleigh will help buy testing equipment for the clinic.
Sarah, along with friends and fellow Trinity Academy fifth-graders Allie Lawrence, Leslie Meadowcroft, Sophie Preston andAshley Woodfin, has been working hard to get the word out about the event. It's hard work, but Sarah said it's also fun to talk up something she's passionate about.
"It's kind of cool to see the expressions on their faces when they hear what we're trying to accomplish," she said. Many of the people she talks to are "very surprised," she said, because she and her friends, all 11, are so young.
Donations are steadily coming in, and Sarah said they hope to get 100 people participating in the free-throw marathon. The event will feature food and live music, and, of course, lots of basketball. Individuals will be challenged to shoot 500 free throws at the event, and teams are going for 6,000.
The idea is to use a spirit of fun to address a serious issue.
The national Hoops of Hope organization reports that the U.N. estimates more than 5,700 children are orphaned each day because of HIV/AIDS. More than 15 million children have already lost one or both of their parents to the disease, most of them in sub-Saharan Africa.
Sarah said she's looking forward to seeing the event she and her friends have planned become a reality on Feb. 21.
"I'm looking forward to getting to see all these people get together, to see what we've done," Sarah said. "And if we pull off 100 people coming, I think that'll be pretty cool to see."
In the meantime, the girls are learning a lot about themselves and about what it takes to plan a big event. Sarah said she was nervous, at first, about approaching people to ask for support. But it's gotten much easier over time.
"Telling the people the same thing so many times, it's kind of gotten stuck in my brain. Knowing what you're saying, it helps a lot," she said. "The people I've been talking to are so encouraging, and the school letting me have the gym for the event, it's all very encouraging."
Know a young person who makes you proud? Tell us about it via our online form atnewsobserver.com/thumbsup, by emailing [email protected], or by calling 919-829-4828.
Read more here: http://www.newsobserver.com/2014/02/09/3598031/event-throws-support-to-aids-orphans.html#storylink=cpy