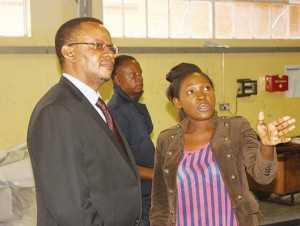 ZAMBIA Daily Mail managing director Anthony Mukwita says the company is partnering with Zampost as a way of extending its presence to other parts of the country.
Mr Mukwita said company will soon sign a memorandum of understanding (MOU) with Zampost which will enable the Daily Mail  to reach areas where it is not present at the moment.
This came to light yesterday when Zampost Postmaster general Macpherson Chanda called on him at his office.
"Zambia Daily Mail wants to partner with Zampost because of its wider presence. We want to use Zampost to reach out to other parts where we are not present especially in the newly established districts.
"The lawyers will soon sign the MOU so that we can kick-start this exercise,' Mr Mukwita said.
He said the company has also bought an ultramodern multi-million dollar printing equipment which will be used to print calendars, brochures, posters and many other documents.
Mr Mukwita said the newly acquired printing equipment will arrive in the country this month and will soon be operational.
He said the Daily Mail management is committed to professionalism and innovation, hence the need to partner with Zampost with a view to extending its presence to other areas across the country.
Mr Mukwita said management is also happy that it has maintained professionalism while putting the interests of the public first.
He further said the newly procured machine will ensure the company starts operating as a viable entity and compete with other companies in the printing industry.
And Mr Chanda pledged the company's continued collaboration with the Zambia Daily Mail.
"This will be a win-win situation and I'm happy to say that this is a good initiative because it will give the two companies an opportunity to expand their businesses.
"Let us work together so that this MOU can be signed soon so that we can start working together," Mr Chanda said.
He also commended the Zambia Daily Mail for going into commercial printing business saying the move will help the company to expand its business portfolio.
Mr Chanda also said he is happy that the Daily Mail has over the past few months undertaken several activities to improve the quality and efficiency of the newspaper.