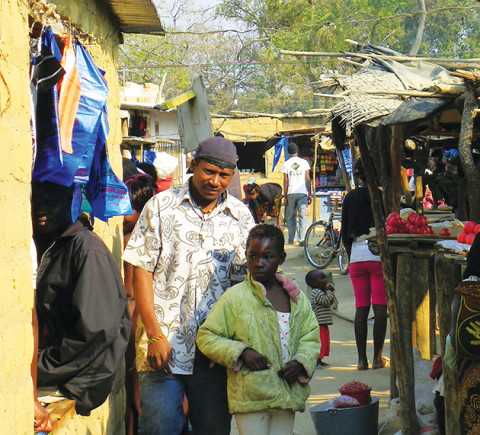 GOVERNMENT has this year allocated over K60 million for various infrastructure projects in North-Western Province as it aspires to ensure inclusive growth in the country through infrastructure development.
Acting President Alexander Chikwanda says of the total amount, K20 million will be spent on the rehabilitation of the West Lumwana-Ntambo-Makango road and K20 million for construction of a weighbridge at Mutanda.
About K18.8 million will be spent on the development of rural roads in the province with K6.7 million expected to be spent on the procurement of equipment.
"We are aware that huge pockets of poverty exist in our country, hence our programmes of action to grow the economy as this is the only way to end poverty," he said.
Mr Chikwanda, who is Minister of Finance, said this yesterday when he commissioned the National Savings and Credit Bank (Natsave) Lumwana branch in Manyama area.
The Lumwana branch becomes the 33rd on the bank's network.
Mr Chikwanda also said about K2.4 million will be spent on provincial infrastructure programmes including schools, health centres, a police station and a sports complex in Chavuma.
He, however, called for the speedy release of funds because the pronouncements made will be meaningless without resources.
The minister said Government has transformed the country in the two years it has been in office.
"The PF government has transformed the country far beyond what it has been in the 49 years of our independence and is determined to carry out the transformation to its logical finality", he said.
On the opening of the Natsave branch, Mr Chikwanda said the development will help finance a range of economic activities particularly in the agriculture sector.
He said while Lumwana is mainly a mining area, it has agricultural potential and financing the sector will position it as the mainstay of the economy
Meanwhile, Natsave board chairperson Chiselebwe Ng'andwe said the bank is expected to open 10 branches this year and an additional 18 branches between next year and 2018 in line with government's strategy of ensuring financial inclusion among the rural communties.
Dr Ng'andwe also said the bank is on course in meeting the minimum capital requirement.
Earlier, Natsave managing director Cephas Chabu said the opening of the branch will provide financial services to the community, which has about 74 percent of its population unbanked.
Mr Chabu said with over 35,000 farmers, 265 cooperatives and a workforce of 7,400, there is need for reliable banking services to meet the community's financial needs.