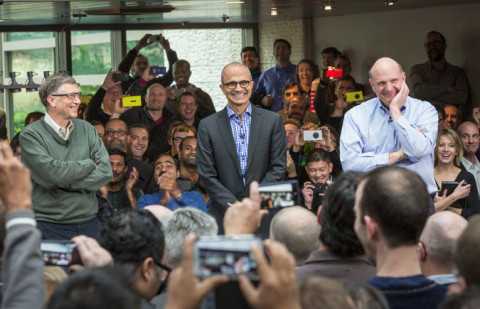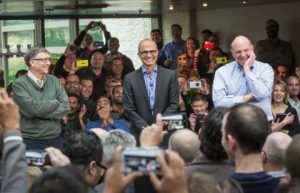 Microsoft on Tuesday announced that Satya Nadella was its next leader, betting on a longtime engineering executive to help the company keep better pace with changes in technology.
The selection of Mr. Nadella to replace Steven A. Ballmer, which was widely expected, was accompanied by news that Bill Gates, a company founder, had stepped down from his role as chairman and become a technology adviser to Mr. Nadella.
John W. Thompson, 64, a member of the Microsoft board who oversaw its search for a new chief executive, became the company's chairman, replacing Mr. Gates.
"During this time of transformation, there is no better person to lead Microsoft than Satya Nadella," said Mr. Gates, who remains a member of Microsoft's board. "Satya is a proven leader with hard-core engineering skills, business vision and the ability to bring people together."
In a statement, Mr. Nadella said, "Microsoft is one of those rare companies to have truly revolutionized the world through technology, and I couldn't be more honored to have been chosen to lead the company."
In Mr. Nadella, Microsoft's directors selected both a company insider and an engineer, suggesting that they viewed technical skill and intimacy with Microsoft's sprawling businesses as critical for its next leader. It has often been noted that Microsoft was more successful under the leadership of Mr. Gates, a programmer and its first chief executive, than it was under Mr. Ballmer, who had a background in sales. Mr. Ballmer, 57, said in August that he was stepping down.
Mr. Nadella, 46, from Hyderabad, India, is only the third chief executive of Microsoft, an icon of American business that has struggled for position in big growth markets like mobile and Internet search. The company has correctly anticipated many of the biggest changes in technology — the rise of smartphones and tablet computers, to use two examples — but it has often fumbled the execution of products developed to capitalize on those changes.
It remains to be seen whether Mr. Nadella's technical background, along with the closer involvement of Mr. Gates in product decisions, will give the company an edge it lacked during the Ballmer years. Microsoft said in a statement that Mr. Gates will "devote more time to the company, supporting Nadella in shaping technology and product direction."
Relinquishing his role as chairman will allow Mr. Gates to spend over a third of his time with product groups at Microsoft, "substantially increasing my time at the company," he said in a video made for the news of Mr. Nadella's selection. Mr. Gates said that Mr. Nadella asked him to make the change in his duties at Microsoft.
"I think he's the right person for the company right now," Frank Artale, a former Microsoft manager who works with Ignition Partners, a venture capital firm in the Seattle area, said of the selection of Mr. Nadella. "A strong technical leader is truly needed there."
Mr. Nadella is a contrast to Mr. Ballmer in other ways. Most recently the executive vice president of Microsoft's cloud and enterprise businesses, Mr. Nadella peppers his conversations and speeches with technical buzzwords that people outside the industry would most likely find impenetrable.
Mr. Nadella, who has been married for 22 years and has three children, counts cricket and poetry among his hobbies. In an email to Microsoft employees on Tuesday morning, he wrote that he is "defined by my curiosity and thirst for learning."
"I buy more books than I can finish," he wrote. "I sign up for more online courses than I can complete. I fundamentally believe that if you are not learning new things, you stop doing great and useful things."