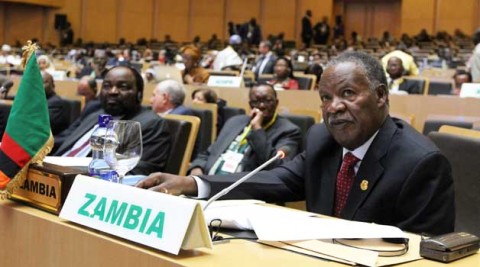 PRESIDENT Michael Sata has urged African leaders not to be divided by outside forces when undertaking multilateral trade negotiations.
Speaking when he made an intervention during the 22nd Ordinary Session of the African Union (AU) Heads of State and Government Summit here, Mr Sata said African leaders must always speak with one voice.
President Sata urged the AU Commission to make arrangements for its representatives to meet in March to map out a strategy for multilateral trade negotiations.
"This will be in order to break the current impasse on the economic partnership agreements and indeed in order for Africa to achieve the required success in multilateral trade, as well as to agree on what is the best position for Africa," Mr Sata said.
Mr Sata, however, said the summit could not end without putting on record appreciation for economic communities which had advanced their negotiations aimed at boosting intra-African trade towards the establishment of the continental Free Trade Area.
He commended the Southern African Development Community (SADC), Common Market for Eastern and Southern Africa (COMESA) and the East African Community which are expected to sign an agreement in June to establish an enlarged market covering 26 countries in East and Southern Africa with a combined population of 600 million.
Mr Sata said countries needed to learn from each other's strengths, and noted that the Economic Community of West African States (ECOWAS) had also advanced towards establishing a monetary union of West African States.
"At our June summit in Malabo, Equatorial Guinea, we should be furnished with the appropriate reports I have referred to in my statement," Mr Sata demanded in an unassuming tone to rousing applause in the auditorium.
The President also said there was need for a peaceful and prosperous Africa.
"We have to start putting in place concrete measures to realise Africa's dream from 2013," Mr Sata. "The economic integration of Africa and control cannot be realised without opening up trade between and among ourselves, the member states of the African Union."
Meanwhile, Mr Sata has disclosed that Zambia is among developing countries that have been allocated a grant of US$31.12 million from the Global Agriculture and Food Security Programme.
The grant, which was dispensed in September last year, is meant to support Zambia and other developing countries in the implementation of their agricultural investment plans.
President Sata said this yesterday when he addressed the 22nd Ordinary Session of the African Union (AU).
"We are very grateful for this grant as it will go a long way to support the implementation of our various programmes," he said.
Mr Sata said as Africa reflected on the Maputo Declaration on the Comprehensive African Agriculture Development Programme (CAADP), leaders were reminded about their collective commitment to addressing hunger, poverty and food insecurity on the continent in a more sustainable manner.
"To this effect, Your Excellencies, there is need for us to continue on the path of the CAADP implementation in order to address these challenges and to attain the goals set for achieving food security, poverty reduction and income for our people," he said.
The President said agriculture continued to play a cardinal role in the economic growth of most of African countries, including Zambia where the sector contributed more than 18 per cent to the country's Gross Domestic Product (GDP).
Mr Sata added that agriculture was equally important because it was also the main source of livelihood and income for more than 78 per cent of the rural Zambian population.