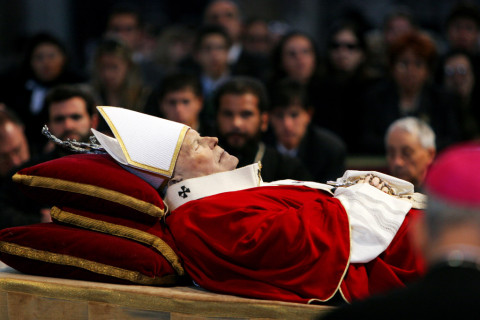 Police have recovered a stolen gold and glass case that once contained the blood of the late Pope John Paul II, only to find the cloth stained with the blood itself was missing.
Pasquale Corriere, head of the association that looks after the small church in the mountains east of Rome from which the reliquary was stolen, said two men had been detained by police in the regional capital, L'Aquila.
The men took the police to the site where they had dumped the reliquary, but the cloth stained with the blood of the Pope, who died in 2005, was no longer inside, he said.
He said police were interrogating the men, who they believed to be drug addicts, and searching their apartment.
A small crucifix stolen along with the reliquary from the church of San Pietro della Ienca last weekend was also recovered.
The blood-soaked cloth was a fragment of the cassock that John Paul was wearing on May 13, 1981, when he was shot in an assassination attempt.
Relics of saints and other holy figures are often displayed in reliquaries to be venerated by the Catholic faithful.
The late pontiff, who is due to be declared a saint on April 27, loved the mountains in the Abruzzo region because they reminded him of those in his native Poland, and he would slip away secretly from the pressures of the Vatican to hike and ski there in the early years of his papacy.
In 2011, John Paul's former private secretary, Cardinal Stanislaw Dziwisz, now archbishop of Krakow in Poland, gave the local community the relic as a token of the love that John Paul had felt for the area.
Reuters