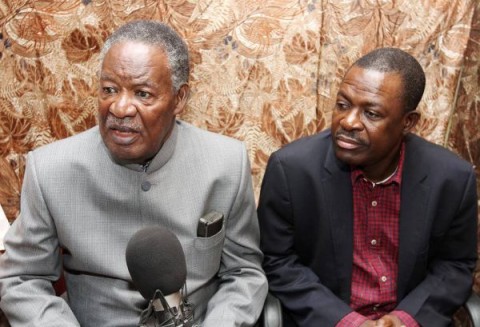 FORMER Solwezi Member of Parliament Lucky Mulusa yesterday told the Tribunal constituted to probe Justice Minister Wynter Kabimba that the
minister breached both the parliamentary and ministerial oaths of secrecy.
Mr Mulusa, 48, of Solwezi told the Tribunal that Mr Kabimba breached both the parliamentary and ministerial oaths of secrecy when he gave a legal opinion rendered to him by a Government official to a private entity.
He told Tribunal chairperson, acting Supreme Court judge Evans Hamaundu, who sat with two High Court judges Gertrude Chawatama and Justine Chashi, that it was a violation of his oath of secrecy for Mr Kabimba to have copied the legal opinion given to him by Solicitor general Musa Mwenye in his capacity as justice minister to other people.
Mr Mulusa said Mr Kabimba's conduct interfered with the independent operations of the judiciary. This is in a matter in which acting chief justice Lombe Chibesakunda has constituted a three-member Tribunal compromising of Mr Justice Hamaundu, judges Chawatama and Chashi to probe Mr Kabimba over his
alleged breach of the Oath of secrecy and breach of authority.
"Mr Kabimba used his position as minister of justice to obtain legal opinion which he passed on to PF when he changed the jacket of minister into a jacket of PF secretary general and passed it to a private entity which also passed it on to a private individual Mr Leonard Banda," Mr Mulusa said.
Mr Mulusa and human rights activist Brebner Changala want the Tribunal to state whether or not  Mr Kabimba abused his office by using Government information rendered by Mr Mwenye to allegedly block the parliamentarians whose seats had been nullified by the Supreme Court for engaging in corrupt practices, from re-contesting their seats.
But Mr Mulusa said it was wrong for Mr Kabimba to give the professional opinion to Lusaka lawyer Bonaventure Mutale and later on Petauke PF losing candidate Leonard Banda to allegedly use in a case in which he was seeking MMD president Nevers Mumba to be cited for contempt.
He accused the justice minister of obtaining pecuniary advantage by using the legal opinion which was rendered to him by a person paid by
the Government to champion a PF cause.