Back in the 1950s Norman Carr dreamed of a unique way to experience the African bush; a way of interacting with the environment while respecting the natural landscape and local Zambian traditions – conservation through tourism. Norman Carr Safaris was born.
In June 2013 another dream was realised when Norman Carr Safaris opened its newest camp – Chinzombo, arguably the most luxurious in Zambia. It was designed by Silvio Rech & Lesley Carstens the award-winning architects behind North Island.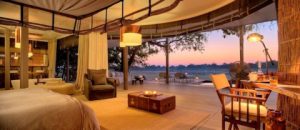 To add to the grandeur, in-camp spa treatments are now being offered under the leadership and direction of Putu Ari who ran North Island's spa for many years. She has trained a team of local women who will astound the most discerning guests with their massage techniques using oils, scrubs and essences created onsite, from all natural ingredients and local plants and leaves.
Chinzombo's signature treatment is a two-hour pampering. It combines a body scrub and polish handmade using healing herbal plants from the area. This is followed by a splendidly-soothing, full-body massage designed to balance the body's meridians and energise body, mind and soul.
Guests will delight in Ari's professional, 'homemade' scrubs, oils and facial cleansers comprising ingredients such as neem leaf, lemongrass, almond and peppermint. She believes in keeping things simple and effective.
Until the opening of the Ebony Spa 'house', all treatments are offered in the privacy of the guests' individual 150sq metre villas. The new spa in Chinzombo's ebony grove on the edge of a lagoon is Norman Carr Safaris' piece de resistance!
Chinzombo represents another step in the continued evolution of Norman Carr Safaris' luxury bush-camp design philosophy. Here, for the first time, modern architectural forms are combined with the organic geometry and regional materials of indigenous Zambian building methods creating an entirely new type of bush camp on the site of one of Norman's original camps.
Six spacious villas – one of which is designed to accommodate a family of five – are nestled within the shade of ancient trees on a wildlife-rich ridge which follows a C-shaped bend in the Luangwa River. The Chinzombo villas appear to float over the landscape. A winding foot path connects the villas and communal areas through the shade of the surrounding Msikzi trees. The simplicity of the contemporary, steel-framed structures contrasts with the natural materials used in the décor and interiors to complement the surroundings in a unique and interesting fashion.
Spacious living areas comprise large, cooled bedrooms, luxurious bathrooms and shady decks overlooking the Luangwa River. Each villa is equipped with WiFi and a private pool. The design is ground breaking as the natural materials, locally produced leather, reed work and canvas, the lack of concrete or brick and the recycled composite timber floors complement the wilderness perfectly and allow the bush to speak for itself.
Décor is simple and minimal, using raw linen, timber, copper and hand-made crockery within a simple, authentic shelter that offers a respectful nod to Chinzombo's past history and Norman's legacy. The camp was designed to allow wildlife and the natural vegetation to flourish in and around the structures, unhindered by vast tracts of landscaping, game fences or roads. This is bush life at its best…