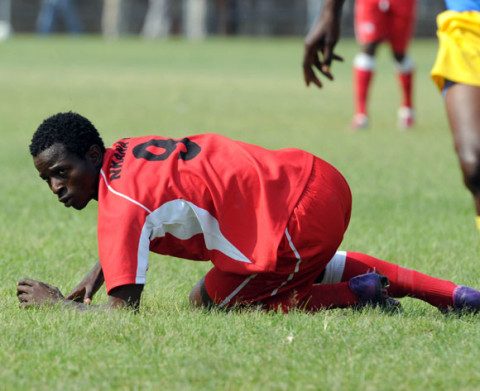 CHIPOLOPOLO striker, Ronald 'Sate Sate' Kampamba at the weekend scooped two accolades during Nkana's 2013 soccer season award presentation ceremony held in Kitwe where skipper, Sydney Kalume was crowned Footballer of the Year.
During this colourful ceremony graced by Sports Minister Chishimba Kambwili at Nkana Golf Club on Saturday night, Kampamba, who racked in 18 goals last season, picked up the Topscorer's award before heading back to the podium to collect the Director's Award.
Kalume, whose leadership qualities on the pitch helped Nkana claim their record 12th league title, was named the club's Footballer of the Year.
Chipolopolo burly striker, Festus Mbewe, who has now moved to South Africa's Golden Arrows after hitting the target 13 times for Nkana last term, was voted the Most Improved Player, as defender Christopher Munthali got the Most Featured Player award.
Veteran defender, Billy Mwanza received the Most Consistent Player accolade while Donashano Malama picked up the Chairman's Award.
Goalkeeper Charles Mweemba was named the upcoming Player of the Year with midfielder, Kelvin Mubanga being voted the Young Player of the Year. The Most Disciplined Player award was scooped by Noel Phiri.
Meanwhile, Kambwili said he was happy to be part of Nkana's momentous 12th league title celebrations and thanked the players and Masautso Mwale's technical bench for the achievement.
Kambwili said the race for the championship was not easy but that Nkana's focus, discipline and hard work complimented by support from sponsors, Mopani Copper Mines paid off.
The minister, however, warned the Football Association of Zambia (FAZ) that this was the last time a league champion would be celebrating the victory without a trophy, otherwise "heads will roll".
Nkana chairperson, John Chiwele also expressed disappointment that the club was celebrating its victory without a trophy and urged FAZ and league sponsors, MTN Zambia to improve on the matter.
FAZ vice-president, Boniface Mwamelo said the association would address the concerns raised over the trophy and that the next few weeks, an awards gala would be held to officially close the events of 2013.
Mopani chief services officer, Moses Chilangwa said the mining giants were happy that their investments into the club had borne some fruits through Nkana's 2013 league triumph.
Kalume, in a vote of thanks, said the players would humble themselves and work hard to sweep all silverware available this season.
Nkana Golf Club captain, Elario Musonda said it was unprecedented to host a ceremony of this nature at the golf club.