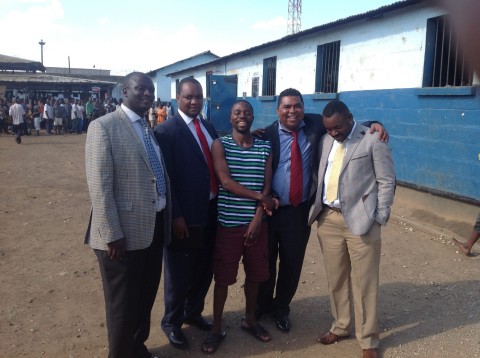 The gun Stephen Masumba fired in the air on New Year's Eve is licensed and has been given back to the exuberant former deputy Minister of Youth and Sport after paying an admission of guilt fine.
Ms Joyce Kasosa, the Copperbelt Province acting Commissioner of Police, confirmed in an interview that Mr Masumba paid K22.50.
"Mr Masumba pleaded guilty for the conduct likely to cause breach of peace," Ms Kasosa said. "He has paid a fine and the firearm, which is registered under his name, has been given back to him."
In a typical Masumba tradition, however, the Mufumbwe law-maker said the gun he was handed back is not the only one he has in his "amoury" as he collects firearms for fun. He added, however, that he means no harm to anyone with his gun collection.
Recalling the incident of New Year's eve, Mr Masumba said: "My firing the gun was not to cause havoc but rather as a way to protect myself and the vehicle. The gun I used is a nine millimetre accommodating 17 rounds and is black in colour."
He was detained in Kitwe for discharging the firearm in the air in what the crowds initially thought was the marking of 2014 in grand style but Masumba denies this.
Mr Masumba says that he shot in the air in order to scare off men who had been trailing him and appeared to have been wanting to steal what he calls his "unique" Land Rover Discovery, en route to Kitwe from Mufulira.
"I drive a red Land Rover Discovery 3," Mr Masumba said with a chuckle. "One of the most decorated 4x4s made in 2012, it is almost the same as Discovery 4 but with minor differences…you should see it."
He touted some of the outstanding features of his Discovery 3 as an in-built phone which he says makes it unique from all cars and Land Rovers to ever drive out of the factory with the only competition being the Discovery 4.
"Its design is suitable in all weather conditions," said Mr Masumba. "It is extremely comfortable on the road, you do not need to carry your phone to answer when driving, you simply answer with the enhancement of a blue tooth."
Mr Masumba said the vehicle also has rear cameras which show the driver what is behind when reversing.
"The Land Rover Discovery 3 comes with a generous package, including active four-corner air suspension, satellite navigation, cruise control, Land Rover's acclaimed terrain response system and park distance control," Mr Masumba said with satisfaction.
Mr Masumba was easy on the phone as he enjoyed reading the Daily Mail and added that the newspaper must have made lots of money from selling his story on front page.
But Non-Governmental Organisations Co-ordinating Council (NGOCC) chairperson Beatrice Grillo has condemned his actions saying the former minister is not inspiring young people in a positive manner.
Ms Grillo said Mr Masumba is a national leader and is expected to be a role model for the young people.
She said it also goes to all national leaders, including parents, to always monitor their actions because children learn more from what they see from leaders.
"With such action in public without having to consider the crowd, it becomes difficult for him to mentor the upcoming leaders and children…" Ms Grillo said.
She dismissed Mr Masumba's excuse of discharging the fire arm in order to protect himself and the D3 saying he could have hurt many people in the confusion.
Chapter 110 of the Firearms Act  states that "A person convicted of an offence under this Act for which no other penalty is provided shall be liable to a fine not exceeding seven thousand five hundred penalty units or to imprisonment for a term not exceeding one year, or to both. Penalties, forfeiture and revocation of license.
Where any person – (a) is convicted of an offence under this Act or is convicted of any offence for which he is sentenced to imprisonment; or (b) has been ordered to be subject to police supervision or to enter into a recognizance to keep the peace or to be of good behaviour, a condition of which is that the offender shall not possess, carry or use a firearm."
Mr Masumba is not a stranger to controversy as he has often stolen the front pages with either a story of tampering with a college diploma, dancing on his head or doing the kwasa kwasa dance.
He has always defended himself as a free-spirited individual who is apparently proverbially licensed to chill.
Zambia Daily Mail