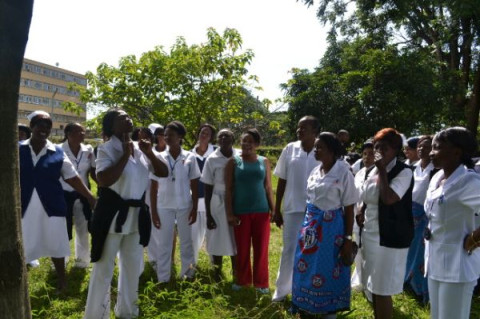 THE MMD and the Patriotic Front (PF) on the Copperbelt have blamed trade unions for the nurses who were fired for going on an illegal strike.
PF Ndola vice-chairperson Anthony Katongo said trade unions had a task to monitor and show leadership so that strikes could be conducted in appropriate ways.
More than 230 nurses countrywide who participated in the strike demanding better salaries have been fired.
Mr Katongo said there was no need for the nurses' strike to go on for as long as it did.
"It is sad that the nurses were fired and it shouldn't have reached those levels if the unions gave the nurses guidance," he said.
Mr Katongo said he was sure Government did not find pleasure in firing the nurses but it was evident in that case that it was left without a choice.
MMD Copperbelt information and publicity secretary Yotam Mtayachalo said when he featured on the Open Forum radio programme on Sun FM on Wednesday that the trade unions in Zambia lacked sincerity and that was why the nurses got fired for going on strike.
Mr Mtayachalo said the trade unions were not firm and did not give proper guidance to the nurses.
"I am a former general secretary for NESAWU (National Energy Sector and Allied Workers Union) and I know how trade unions should behave. The way the nurses' strike happened could not have happened when I was a unionist," he said.
Mr Mtayachalo said the labour movement was docile and could not give leadership to its members.
He said even after the nurses were fired, he was not seeing the kind of guidance or firmness that the labour movement should exhibit on the matter.
Times of Zambia