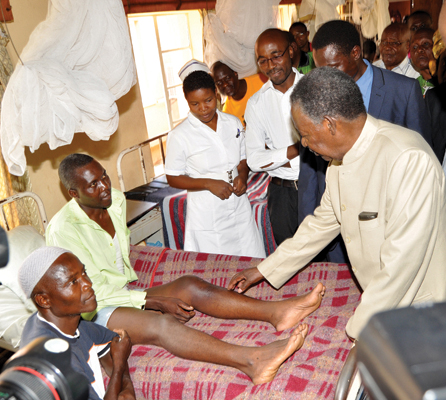 THE Electoral Commission of Zambia (ECZ) has tabled before the Conflict Management Committee concerns raised by the MMD regarding campaigns in Vubwi and Malambo constituencies.
MMD deputy national secretary Chembe Nyangu has written to ECZ seeking a clarification on whether the campaigns in the two constituencies have been flagged off.
This follows President Sata's visit to Mfuwe and Vubwi last weekend.
"The MMD has noted with profound concern and worry that the pending elections in the two constituencies mentioned above are being preceded by illegalities even before the ECZ sets the dates for nominations and polls as provided for by law.
"In your press release dated November 20, 2013, you (ECZ) announced that by-elections in Zambezi West and Vubwi constituencies were postponed because of court cases. Malambo constituency also has a court case. The president's visit to the two constituencies implies that the president has information from ECZ that the two constituencies will hold elections together," Mr Nyangu's letter reads in part.
And ECZ public relations manager, Cris Akufuna confirmed receipt of Mr Nyangu's letter.
Mr Akufuna said the matter has since been tabled before the relevant committee.
He said Mr Nyangu had been informed of the necessary steps undertaken by the commission on the matter.
"We have tabled the matter before the conflict management committee who will study the case," Mr Akufuna said.
daily mail