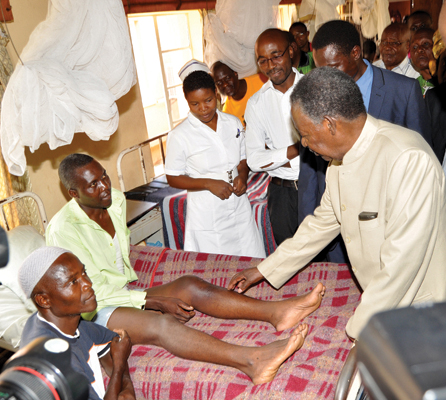 PRESIDENT Sata on Saturday afternoon became Zambia's first president since independence to visit Vubwi, which he has declared a district.
Vubwi was, hitherto, part of Chadiza district but is now one of the 30 new districts the President has created since 2011.
Mr Sata was driven from Chipata on a more than 80-kilometre Feni-Vubwi road, which will soon be tarred under the Link Zambia 8,000. The road has remained untarred since 1964.
He made a stop-over at Feni to pay a courtesy call on Paramount Chief Mpenzeni of the Ngoni people before proceeding to Vubwi where he introduced PF candidate in the Vubwi parliamentary by-election Margaret Miti.
Mr Sata warned Ms Miti not to be selfish as she seeks the parliamentary slot.
The Vubwi seat fell vacant after the Supreme Court nullified the election of MMD's Eustarckio Kazonga for alleged corrupt practices, after which the by-election was set for January 7 next year but the Electoral Commission of Zambia (ECZ) last month postponed the filing in of nominations and the subsequent polls pending the Supreme Court's determination of the case involving Dr Kazonga's eligibility to re-contest the seat.
The president was initially supposed to fly to Vubwi but opted for a drive on the gravel stretch to inspect the project that he promised to deliver during his campaign trail for the 2011 tripartite elections.
"When I came to campaign here, I promised you the road and I have started bringing it before the by-election and by coincidence, I came…If you [Ms Miti] want to be an MP,  don't look after yourself alone.
"Lusaka is far from here but I have come to see the road. I want eyes to see things for me," President Sata said.
"So you, Ms Miti, concentrate on speaking for the people, these people have no one to speak for them. There are no schools, no roads, no water and you want to be MP," Mr Sata said.
He congratulated Ms Miti for being adopted on the PF ticket out of many people, including men, who sought the adoption.
Mr Sata told the people of Vubwi that it is up to them to continue suffering if they reject Ms Miti.
"…here in Eastern Province, we only have one MP [Colonel Joseph Lungu for Msanzala], the rest are MMD. Is Ms Miti ,Bemba? She is your own, you know her parents and her relatives, so if you reject her, it is up to you," he said.
Mr Sata told Ms Miti that none of the people in the constituency asked her to contest the seat and ordered her to tell the people why she wants to be an MP.
"Show me among these people if there is anyone who asked you to come and stand as MP. Stand up and tell us why you want to be an MP," he told Ms Miti, who was kneeling before the joyous crowd.
In response, Ms Miti said: "I stand before you to present myself so that we can work together. I can't bring development to Vubwi on my own unless we put our heads together so that you and I work together."
Others who spoke at the rally include Education Minister John Phiri, Local Government Minister Emerine Kabanshi, PF chairperson for transport and communications Willie Nsanda, PF Eastern province chairperson Lameck Mangani, Col Lungu, and Transport Deputy Minister Colonel Panji Kaunda.
 Zambia Daily Mail