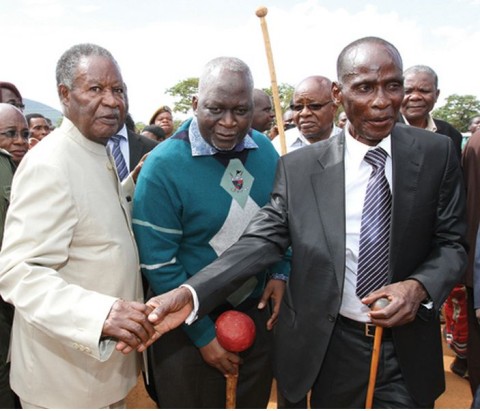 PRESIDENT Sata yesterday told Patriotic Front (PF) candidate in the forth-coming Malambo by-election Jack Shuma to work on his physique and re-energise if he is to ably deliver development for his constituents if voted into office.
President Sata said he expected nothing but a lot of hard work from the aspiring candidate, which he said could prove to be a challenge if Mr Shuma allowed body weight to get in the way.
The head of State has always raised concern about the physique of his officers, which he says he wants to be on top notch levels all the time in order to allow efficient delivery of services.
Mr Sata, who nevertheless expressed lots of confidence in the PF choice of candidate, told Mr Shuma that the people of Malambo were anxious for development and would not forgive the PF and Mr Shuma if it is not delivered on time.
"You have to go to all the villages. You have to take roads to all chiefs. You have to make sure that every village has water. Are you not ashamed that 49 years of independence women are still carrying water on their heads? Children are not going to school after 49 years of independence," Mr Sata said.
The Malambo by-election is awaiting a Supreme Court decision after former member of Parliament Maxwell Mwale's eligibility to recontest the seat following the nullification of his election as MMD MP was questioned due to corruption charges.
Despite an election date not being in place, Mr Sata took time off his busy Lusaka schedule to inspect road projects and introduce Mr Shuma to the voters in the area starting from Mambwe district yesterday during a public rally held at Chutika primary school.
Mr Sata expressed confidence that Mr Shuma would perform well in the polls following the warm welcome the voters gave him.
Mr Sata said the PF has only one MP in the entire Eastern Province and the people of Mambwe had a great opportunity to beat the proverbial dry spell and show a positive way forward in order to attract development to Eastern Province.
He warned Mr Shuma that he would replace him with a woman if he failed to perform after being elected MP, saying the party has no shortage of qualified people to do the right job at any given time.
Later, President Sata was driven for more than 20 minutes on the Chipata-Mfuwe road, which is under construction up to Kamoto Mission Hospital, where he visited Chief Nsefu of the Kunda people, who has not been feeling well lately.
At press time, President Sata was still actively engaged in his eastern tour of duty in the company of other top Government officials such as Southern Province Minister Daniel Munkombwe, Information Permanent Secretary George Zulu and Home Affairs Minister Edgar Lungu.
He was welcomed at Mfuwe International Airport by Eastern Province Deputy Minister Malozo Sichone, PF Eastern Province chairman Lameck Mangani senior Government and party officials.
Zambia Daily Mail