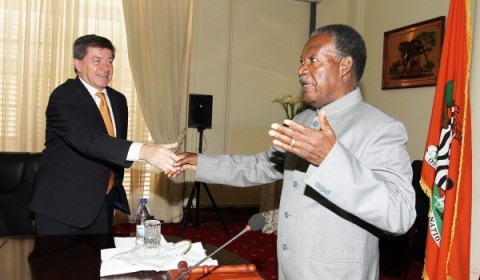 Chief government spokesperson Mwansa Kapeya has dismissed sentiments by some opposition political parties that government holds the International Labour Organization (ILO) to blame for the unemployment levels in the country.
And Mr. Kapeya says contrary to Alliance for a Better Zambia (ABZ) leader Frank Bwalya's assertions, as reported in some sections of the media, there is also nothing embarrassing about the President Michael Sata's asking the ILO to step up its support to Zambia's job creation agenda.
Mr. Kapeya has told Qfm news in a statement that it is unacceptable for Fr. Bwalya to criticize President Michael Sata for requesting the ILO to scale up its support and collaboration with Zambia in tackling the country's unemployment levels.
Mr. Kapeya has clarified that President Sata did not blame ILO for Zambia's employment challenges when ILO's Director General Guy Ryder paid a courtesy call on him on Wednesday this week, but merely reminded ILO of its responsibility to Member States in promoting job and wealth creation.
Mr. Kapeya says if anything it is Fr. Bwalya who does not understands the role of the ILO and that he ought to understand that the ILO is there to serve the interest of member States which include Zambia.
Mr. Kapeya has emphasized that the opposition ABZ leader should know that among other responsibilities, the ILO provides technical assistance, primarily in the fields of vocational training and vocational rehabilitation, employment policy, labour administration, labour law and industrial relations among other things.
Mr. Kapeya says this is why member states have the right to tell the ILO areas of concern needing its attention, as President Sata did when the ILO Chief called on him.
Mr. Kapeya has since reiterated the PF government government's commitment to continued cooperation with the ILO and other international organizations in building a better and prosperous Zambia for all.
qfm