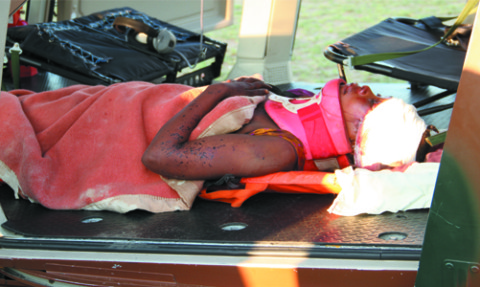 INVESTIGATIONS into the cause of the accident involving a Scania Marcopolo bus that recently claimed 14 lives after it plunged into a gorge at Luangwa bridge has revealed that the vehicle had a faulty braking system.
Police spokesperson Charity Munganga Chanda said in Lusaka yesterday that evidence recorded from passengers indicated that the driver had difficulties with the braking system and that the bus stopped
frequently because it was overheating.
"Our investigations have revealed that the bus was being driven in a dangerous condition.  This is evidenced from the testimonies that we recorded from the surviving passengers who indicated that the driver had difficulties with the braking system and that they made stops on the way because the vehicle was boiling," she said.
The bus, registration number ABA 4611 belonging to Ronsil Transport, plunged into the gorge at Luangwa Bridge on Great East Road on November 30, and 14 passengers died on the spot.
Among the dead were six females and eight males who included the driver.
Ms Chanda said the bus, whose seating capacity was 60 passengers, was overloaded by five passengers.
"This does not include the five infants, who according to Section 166 (ii) of the Road Traffic Act No. 11 of 2002 which states that children under the age of four years are not considered as passengers and that two children of apparent age or over four years but below eight years are considered as one passenger.
"Four of the children were below four while one was four years old and as such they do not qualify to be counted as passengers.  Therefore, the bus was overloaded by five passengers," she said.
She said four bodies were still in the UTH mortuary awaiting identification, and that the other 10 people who died had been buried after postmortem examinations were concluded.
times of zambia