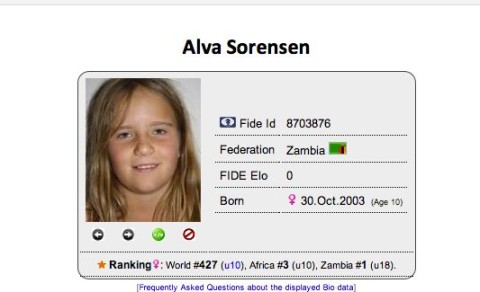 A GRADE-FOUR pupil at American International School (AIS) in Lusaka, Alva Sorensen yesterday made it to the final phase of the senior national team selection after finishing fifth during the trials held at the Olympic Youth Development Centre (OYDC).
 The 10-year-old Sorensen, who trains with his father Peter and brother Hampas, defied all odds to make the top five together with players from the University of Zambia (UNZA) and the Copperbelt University (CBU).
 Sorensen, and four other qualifiers from this tournament, will now compete for the final five national team spots for 2014 against five others who are already established national team players.
 The youngster finished with four points from a possible six and needed to beat Helen Chanda in the final round to get a place in the team that saw Phyllis Mwilola, from the UNZA win the women event with 5.5 points from a possible six.
 Mwilola dropped just half-a-point along her winning the event to former international Yvonne Saina, who finished second on 4.5 points, in the last round.
 Three players followed in close third tied on four points to close the doors on players making the next stage of selection with Mulwale Kabamba, from the CBU, and Maureen Chilufya of Ndola B Chess Club, and Sorensen in fifth place.
 In the men's section which was still being played by Press time, Kelvin Chumfwa took over sole leadership with six points after his brother Stanley lost his seventh round match to guarantee himself a place in the final stage of selection.
Times of Zambia