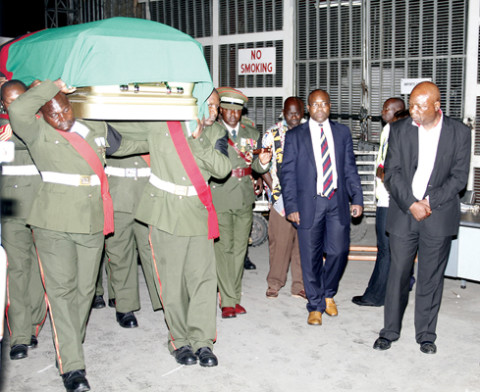 Hundreds of mourners today gathered at Leopards Hill Memorial Park in Lusaka to witness the burial of late Deputy Minister of health, Patrick Chikusu, who died on Monday in South Africa.
And Vice President, Guy Scott, described the late Dr Chikusu as a nationalist and dedicated public officer who contributed greatly to the development of the nation.
Dr Scott said Dr Chikusu will be remembered for his good works during his life time to the people of Zambia not as a politician but as a civil servant where he worked for so many years.
The Vice President said Zambia has lost a gallant leader of this soil considering the massive contribution he did for mother Zambia.
And Dr Scott has praised the Movement for Multiparty Democracy (MMD) and the ruling Patriotic Front (PF) cadres for their mature conduct during a requiem mass of late Dr Chikusu at the Anglican Cathedral of the Holy in Lusaka today.
Dr Scott said the behaviour displayed by the two parties deserves to be praised and urged political parties in the country to co-exist.
"Political parties should learn to co-exist in this country. We are all one people and getting united in times of bereavement is one good thing to do,'' he said.
And former Deputy Speaker of the National Assembly, Chifumu Banda, said Parliament received the death of Katuba Member of Parliament Patrick Chikusu with shock.
Mr Banda, who delivered the speech on behalf of Speaker of National assembly, Patrick Matibini, said Parliament has been robbed of a great leader.
He said the late Dr Chikusu, who joined politics in 2001, was a vibrant politician whose works will never be erased in the eyes of many people.
Mr Banda said Dr Chikusu made invariable contribution in the health sector before quitting to join politics.
Meanwhile, Health Minister, Joseph Kasonde said the death of Dr Chikusu devastated many people who never expected it.
Dr Kasonde said the deputy Minister was hard working because he managed to bring many ideal changes which improved the health service delivery for the people of Zambia.
He also said Dr Chikusu brought many developmental projects in his constituency which cheered the electorates.
Family representative, Harold Chandalala, thanked President Michael Sata for according the late Dr Chikusu a state funeral.
Mr Chandalala said Dr Chikusu managed to bring development in Katuba Constituency within two years in power.
He said the constituency has been robbed of a gallant leader who worked for the people of Katuba.