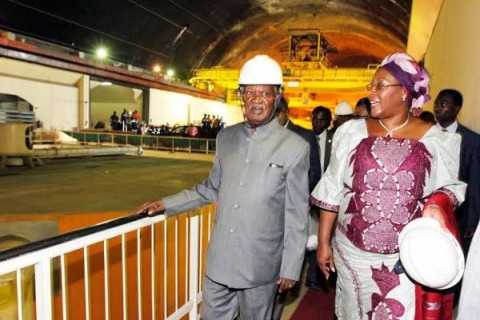 Republican President Michael Sata has commissioned the first Generator unit at the $278 million Kariba North Bank extension power station which is expected to generate 360 Mega Watts of power.
Speaking during the commission in Siavonga District today, President Sata says the launch is the beginning of the fight against load shading in the country and shows the commitment of the government to end load shading.
President Sata has since urged ZESCO to ensure that all traditional leaders are connected to the electricity grid because of the pivotal role traditional leaders play in the social and economic development of the country.
He lamented that 49 years after independence Zambia still imports engineers from China to produce electricity wondering when Zambia will have such engineers.
He says the Patriotic Front government is implementing so many projects across the country aimed at improving the electricity supply so that as many people can have access to electricity.
And speaking during the handover of Siavonga Secondary School which has been upgraded into an ultra-modern boarding school by ZESCO at a total cost of eighty point eight million dollars, President Sata urged Education Minister John Phiri to ensure that all schools in the country are connected to electricity.
Speaking earlier, Energy Minister, Christopher Yaluma
applauded Sinohydro Corporation Limited of China,the contractor contracted to construct the Generator Unit as well as upgrading Siavonga Secondary school, for doing a quality job.
Mr. Yaluma says the commissioning of the generator unit at Kariba north bank will address all the challenges the energy sector is facing such as load shading.
And Chinese Ambassador to Zambia, Zhou Yuxiao says the Chinese Government appreciates the cordial relationship that China shares with Zambia and will continue to finance projects that will improve the living standards of the people.
Speaking earlier, Education Minister, John Phiri, said the PF government has so far built one hundred and thirteen schools since assuming office in 2011 and will continue to put in place policies aimed at improving the education sector in the country.
Dr. Phiri says government remains committed to ensuring that children have access to quality education.