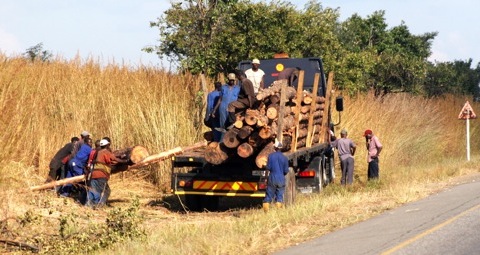 A ban on new logging contracts has done little to slow deforestation or help local firms face up to the big boys.
The logging industry in Zambia is in upheaval. The government has been seeking to bring more clarity and transparency to the sector but so far has been unsuccessful.
On 30 June, then minister of lands, environmental protection and natural resources Wylbur Simuusa cancelled all timber concessions, citing serious allegations of corruption and malpractice.
However, after concerns that the government could be sued, it decided to backtrack and only stop issuing new licences.
In early October 2012, Simuusa had suspended production and the movement of timber to protect the depleting forests around the country, but the move proved difficult to enforce.
Timber industry players had expected Simuusa to lift the moratorium on new permits on 1 August 2013 after the government received a report about the sector, but the ban still remains in force.
According to key government sources, the final report was contrary to Simuusa's investigations: he had suspected rampant cor- ruption in the sector, but the final probe gave the sector a clean bill of health.
As Simuusa was contemplating the next course of action, he was transferred to the ministry of foreign affairs, and replaced as lands minister in early September by Harry Kalaba, a deputy minister in the vice-president's office.
A government source, who declined to be named, confirmed that as of 13 September there were 24 companies with valid commercial forestry licences, 14 of them in Western Province.
Read the original article on Theafricareport.com : Zambia's logging ban splinters | News & Analysis
Follow us: @theafricareport on Twitter | theafricareport on Facebook