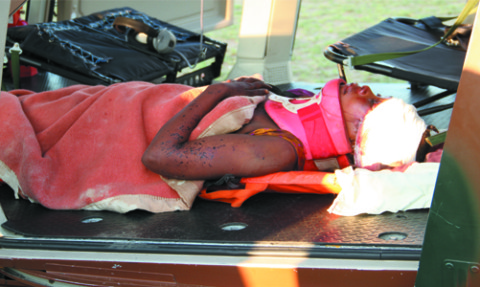 .Government through the Disaster Management and Mitigation Unit (DMMU) in Eastern province  yesterday  donated  assorted food stuffs to one of the Luangwa road traffic accident victims.
Chipata District Commissioner Kalunga Zulu in the company of DMMU officials visited the funeral house of late Matildah Mpanza in Mchini compound in Chipata.
Mr. Zulu consoled the bereaved family and assured them of government's support during this mourning period.
He expressed government's condolences and wished the family God's help in this difficult moment.
And son to the deceased Martin Hara thanked government for the support. Mr. Hara noted that the family has faced challenges to provide enough food for the mourners.
He explained that this is because the late Matildah had carried all the money from the family business to Lusaka for her to buy things for the shop.
Mr. Hara noted that this is why the food stuff that government has provided to the family will go a long way in helping mourners.
Among the items donated include 25Kgs bags of Mealie meal, cooking oil, beans, kapenta, sugar and salt among others.
Matildah Mpanza 49 is one of the six females out of the 14 people  who  died in the accident involving a Ronsil Macopolo bus that happened on Saturday.
The DMMU in Eastern province has since transported the body of  late Matildah and another victim from Lusaka to Petauke and Chipata in readiness for burial.