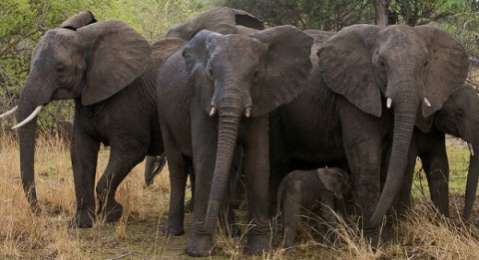 THE Zambia Wildlife Authority (ZAWA) has uncovered a scam in which poachers are killing wild animals, especially elephants, numbering 500 this year.
ZAWA has since urged communities in wildlife areas to desist from eating meat from animals found dead.
ZAWA communications and public relations officer Readith Muliyunda said in Lusaka yesterday, that there had been an increase in the number of poachers who were using toxic substances to kill elephants for ivory and the value of the elephants suspected to have been lost under such circumstances now stood at K350, 000.
"This year alone, about 500 animals and birds have died from suspected poisoning, with the highest number being from the North Luangwa Ecosystem where the total number of poached elephants now stands at 49, for 2013, not forgetting 300 vultures that were found at the Elephant carcasses. This is the highest figure recorded in over 20 years," she said.
The poachers were using toxic substances such as Carbofuran, which is a broad-spectrum ant- cholinergic pesticide or insecticide sprayed by air to protect various crops like alfalfa, rice, grapes, and cotton.
Ms Muliyunda said ZAWA was working with other law enforcement and drug regulatory agencies to ensure that all those trading in or handling toxic chemicals were registered and monitored to curb the rising challenge of poachers.
In the North Luangwa National Park, ZAWA officers had since arrested a 34-year-old man in connection with the incident which took place in October this year, in which four elephants, vultures and three eagles were poisoned.
"The named suspect who is remanded at Mpika Police station was found with three more bags of Carbofuran, a toxic chemical that was detected in the samples of the dead animals.
"The samples were examined by the Food and Drugs Control laboratory under the Ministry of Health. He was also found with 19×375 rifle ammunitions and four shotgun ammunitions," Ms Muliyunda said.
In addition, three Elephants were poisoned in Chiawa Game Management Area (GMA) and 50 baboons in Petauke West.
She said there had also been reports of poisoning of water bodies to kill fish in Nyimba and Mfuwe where some wildlife police officers are said to have been affected.
"This explains the nature of challenge that ZAWA is up against, but we are working hand in hand with the relevant drugs and pharmaceutical boards and the security and law enforcement agencies to successfully bring notorious perpetrators to book," she said.
She said the recent conviction and sentencing of two poachers to 12 years with hard labour by the magistrate court in Nyimba, should also serve as warning to others that ZAWA was mounting the necessary effort needed to successfully curb the current poaching crisis that the country and the continent as a whole was facing.
Times of Zambia