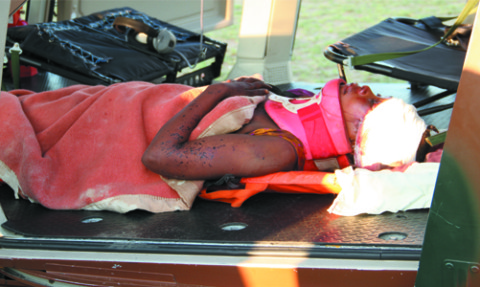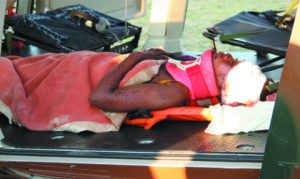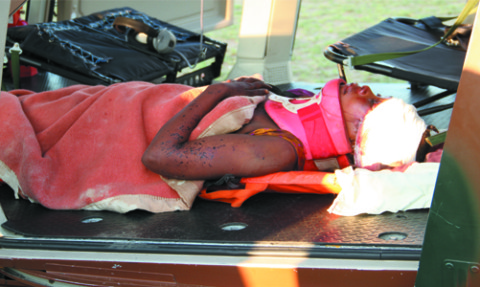 FOURTEEN passengers have died in a road traffic accident after a Marcopolo bus in which they were travelling plunged into a gorge at Luangwa bridge along the Great East Road on Saturday night.
Among the dead are six females and eight males who include the driver, while several other passengers sustained injuries and have been rushed to Mupanshya Mission Hospital in Luangwa.
Three children aboard the bus registration number ABA 4611 lost their mothers and were among eight that have been evacuated to University Teaching Hospital (UTH) by two Zambia Air Force (ZAF) Z-9 helicopters.
The bus belongs to Ronsil Transport.
Some passengers sustained broken spines, limbs and multiple injuries.
Half of the bus is submerged in the river as more passengers are feared trapped in the wreckage.
Luangwa District commissioner Eunie Mumba and police spokesperson Charity Chanda confirmed the accident that happened around 19:28 hours as the bus was enroute to Chipata from Lusaka.
Police officers were by Press time at the scene of the accident trying to recover the wreckage using cranes from the Zambia Army and Mazhandu Transport Services.
Mr Mumba said 71 passengers who were on board have been identified but it was not yet clear whether more people were still trapped in the mangled bus.
He said 57 of the injured passengers were rushed to Mumpashya Mission Hospital but three had been discharged.
"It is quite sorrowful here, we have lost 14 people. It is so sad and
as Government we are concerned that is why we have quickly dispatched helicopters to evacuate those injured to Lusaka to save their lives," Mr Mumba said.
Mr Mumba said preliminary investigations revealed that the driver lost control
as the bus was descending.
Meanwhile, Chief Government spokesperson Mwansa Kapeya said the Government has learnt with deep shock and sorrow, the death of 14 people in the accident.
"On behalf of the Government and people of Zambia, I convey deep-felt condolences to the bereaved families and wish the injured a quick and full recovery," he said.
Mr Kapeya, who is Information and Broadcasting Services Minister, said Government was deeply concerned with the high rate of road fatalities and would not rest in putting in place appropriate measures to make the Zambian roads safer.
UTH public relations officer Mwenya Mulenga confirmed receiving nine survivors from the Luangwa road accident.
Times of Zambia