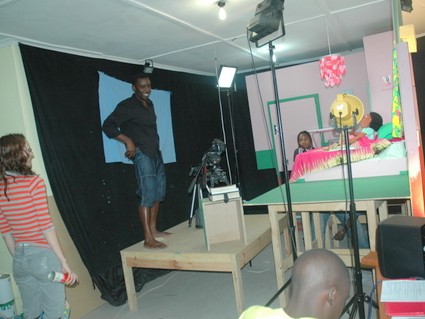 A Tayside woman helping needy children in Africa is starring on TV in both Zambia and Zimbabwe.
Janey Mukomba, a member of Tayside Christian Fellowship in Perth, set off to work as a missionary in southern Africa a decade ago.
In May 2011, she started a Scottish charity with the assistance of a group of trustees from Perth and Aberdeen.
The charity is called Mwana Ministries — Mwana means child.
Janey works alongside her husband, Evans, who is a Zambian national. Together they film a puppet show — called Tommy Time — to teach children about moral behaviour. They already have one season of the show under their belts and are set to screen season two in January. Their aim is to fulfil the charity's vision, which is to improve the lives of children in Africa and further their education.
The three arms of the charity includes Mwana Media, Mwana Mission and Mwana Action.
Janey explains: "Mwana Media works with local people in Lusaka, Zambia's capital, to produce Christian television programmes.
"The first production, Tommy Time, uses puppets to teach children about moral behaviour, values, self-identity and the Christian message.
"The programme is modelled to focus on the reality of situations faced by different children in Africa. The first series has already been aired on TV in Zambia and Zimbabwe.
"The second series, a much higher quality production, will start broadcasting in Zimbabwe in January and will be offered to TV companies across sub-Saharan Africa."
Mwana Mission works in high-density communities where there is extreme poverty, unemployment and very poor living conditions.
Teams of trained children's workers run weekly after-school clubs, where children come to learn and participate in story-telling, puppetry, singing, dancing, Bible-based teaching and games.
Janey added: "Mwana Action helps orphaned and vulnerable children get an education. Mwana currently provides funding for school fees and school uniforms for 10 children in Zambia and Zimbabwe."
This year, Janey has produced a Sunday School book called God's Talk Time, which includes two DVDs of the Tommy Time programme, plus lesson plans and worksheets for children. The book is especially adapted for Sunday School teachers from the high-density communities.
Janey and Evans dream that the work of Mwana Ministries will multiply to many cities and nations.
Anyone interested in the work Jenny and Evans do can log on to mwanaministries.org.