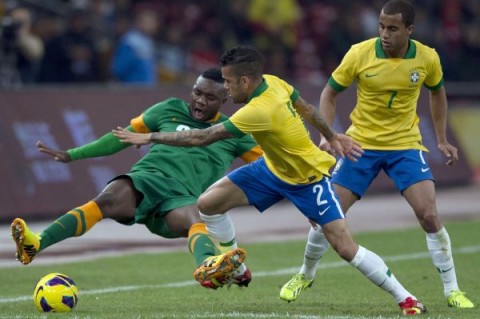 Mayuka is on loan from Southampton, and has netted in each of his last two matches, but has still not been able to help his side to what would be a first victory since Renard took charge a few weeks back.
Renard's arrival at the French League 1 side saw him re-united with the player he has known for the last six years, having first become aware of Mayuka as an exciting young 17-year-old striker while he was coaching the Zambian national team.
Mayuka went on to become a regular goal getter for the Chipolopolo, helping the southern African nation to win the 2012 African Cup of Nations under Renard, before subsequently signing with Southampton.
But lack of game-time in England led to a loan move to France, the player taking the advice of his then national team manager when making the decision to move across the English Channel.
Mayuka is happy to be working under his former coach again, and is confident the two of them can work together to help the side move into a better position after a poor start to the campaign has left them bottom of the table with just eight points, and no victories, from their 14 matches so far.
"One thing I love about him (Renard), as much as he can shout, as much as he can talk, he wants winners on the pitch," said the 23-year-old Mayuka.
"He wants people who work extremely hard, who give everything for the team. Once we get the first win under him we will be up and running.
"Ever since we were together with Zambia it has been like a family thing," the player told BeIN Sport's The Ligue 1 Show.
Renard is hoping that their close relationship will lead to Mayuka making a positive impact in France, and at the club: "I told him I think France will be a very good opportunity for you, because you can show what you are able to do, and when he signed for Sochaux I was very happy.
"I didn't know a few weeks after I was able to sign here. It was just our destiny one more time. I'm a bit like his father. He knows I will be harder with him than with other players…Mayuka will save Sochaux this season."