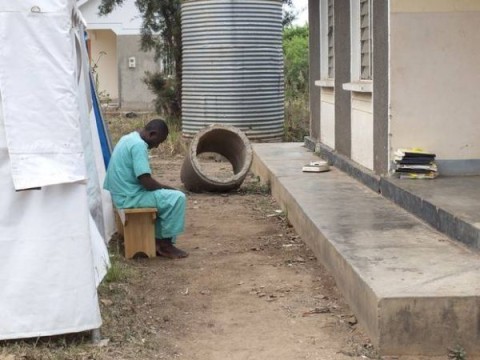 David Mvula was waiting alone at the New Start Male Circumcision clinic in Lusaka when I visited at noon on a Tuesday. He was twiddling a red baseball cap belonging to his friend with the logo "Legoland California" on it.
"I did mine last May. Now I have brought him. I told him he had to do it," he said.
Four more men arrived in the next hour – looking apprehensive – and Mildred, the manager, pronounced it a good day with 12 operations carried out at this walk-in centre (no appointment needed) before lunch.
When I first visited the clinic five years ago, it had performed just 1,000 circumcisions and was pioneering the procedure in Zambia. Today more than 500,000 Zambians have sacrificed their foreskins at this and other clinics to gain protection from HIV – and millions more have followed across sub-Saharan Africa.
But it is not enough. Zambia is still 75 per cent short of its target of two million circumcisions by 2015. So is Uganda, having completed 1.5 million towards its 4.1 million target. Kenya has achieved its target in numbers – but not among the "right" men.
The donors who are pouring cash into male circumcision following the landmark 2006 study which showed that it reduced the risk of HIV infection by 60 per cent, have neglected a crucial factor – the attitude of women.
Why would a man seek circumcision, unless he had plans to sleep around? For single men, there may be no barrier other than their fear of the surgery. But for men with partners, whether married or otherwise, there are two people whose views must be taken into account.
As with condoms, it is the issue of trust that is holding back progress with circumcision across the continent. The message about its protective power is now widely understood. Parents bring their children – in Nyanza province, western Kenya they have had to ban them after the demand proved overwhelming – and teenage boys flock to the clinics. But the key age group – men aged 20 to 40 who are chiefly responsible for spreading HIV – do not come. David and his friend, both in their 30s, are the exception.
Namwinga Chintu, director of the Society for Family Health, which runs the New Start clinic and has carried out four fifths of Zambia's circumcisions, said: "All countries are grappling with the same problem. We have scores of kids – parents don't have a problem with it – but the real challenge is to get the older men."
In Uganda they are going to extraordinary lengths to drum up business. On a dusty field in the village of Kakuuto, 200km south west of the capital Kampala, a crowd of 600 was gathered, seated on benches and chairs under marquees, around a bus belting out deafening music carrying the legend "Muleme Mambe" – Stylish Man.
In the centre of the arena dancers and comedians performed, and men were urged to compete for prizes – a power generator, a bicycle and the star prize of 10 corrugated iron sheets worth $100 – but only if they agreed to undergo circumcision.
The DJ hosting the proceedings called out "Who will be the most Stylish Man?" to roars from the crowd, while glamorous young female dancers gyrated on stage and then mingled with the crowd looking for recruits. Behind the arena, a long red carpet led to the registration and counselling tent, where a dozen young men sat nervously waiting their turn.
Carol Musimami, one of 30 "technical advisers" who counsel the men, said: "You will see the older ones come after dark. They don't want to be with the youth. We are targeting the 25 to 35-year-olds –they are the ones with the money, they buy the women, they are exposing themselves [to infection]. But they are hard to get. They don't want others to know," she says.
Leadership is key. In Kenya, the circumcision programme in Nyanza province in the west – one of the three centres in the landmark 2006 trial that proved its effectiveness – was faltering when Raila Odinga, the Prime Minister and a member of the non-circumcising Luo tribe, responded to protests from tribal elders fearing the loss of their identity by declaring: "We don't lead with our foreskins, we lead with other faculties. This is a medical issue."
The speech, in 2008, proved a pivotal moment and more than 500,000 Luos have since been circumcised.
But persistent concerns remain and, as elsewhere, older men are reluctant to come. Last month, governors of the provincial capital Kisumu invited one of the most famous advocates of circumcision in Africa, Chief Mumena from Zambia, to tour the province to persuade the elders that circumcision is not just for infants but for adults, too. Wearing jeans, a polo shirt and his signature bowler hat – made by Lock &Co of St James's – his royal highness met me in the Imperial Hotel in Kisumu on a break from his busy schedule of conferences and speaking engagements.
A former telephone engineer who inherited his title as head of the non-circumcising Kaonde tribe in north-western Zambia more than a decade ago, he risked impeachment by undergoing circumcision in 2011 at the age of 47.
"I was a convert of my own son. At 18, Benjamin said he wanted to go for circumcision, for medical reasons. I did research, talked to my wife and realised what a wonderful way it was of reducing new infections. I was worried how the elders would react to my doing something contrary to our culture. But when I explained the benefits they were excited."
His bravery won him accolades across the continent, an audience with Bill Gates and an invitation to last year's International Aids Conference in Washington, turning this courteous, undemonstrative former technician into  an articulate and effective  global campaigner on HIV prevention.
His success underlines the importance of recruiting peer educators at every level in the battle against the epidemic – sex workers to distribute condoms in the brothels, and chiefs to spread the word among tribal elders.
But confidence in circumcision in western Kenya has been damaged by a new development. Latest figures from the Kenyan Aids Commission show that while HIV prevalence has been cut in half in Nairobi and on the coast in Mombasa to less than 5 per cent since 2007, in Nyanza, which already had the highest rate at 15 per cent, there has been no change.
In his sweltering office in a dusty suburb of Kisumu, Dr Ohage Spala, the director of Impact, a sex worker and behaviour change project, said: "People are asking, 'Why are you promoting circumcision when it has made no difference?' It is difficult to answer. Of course the figures are disappointing. How come all this effort is being made and all this money is going in and prevalence is not going down?"
The figures worry Peter Cherutich, Kenya's conscientious head of HIV prevention at the Ministry of Health who is waiting for the incidence figures – the key measure.
"I hope to have a definitive answer to the Nyanza question. We need to know what is driving the epidemic. It is politically necessary or people will question why we exist. We may be prescribing the wrong medicine," he said.
But he is not about to abandon circumcision. "We are convinced it is a key preventive measure."
Yet doubts remain. Research last year suggested four out of 10 men were resuming sex before the recommended six week healing period – when the risk of transmission is increased.
"Men come without telling their wives. It may be they feel under pressure to resume sex after a long period pretending they are not interested. That could be the problem," said Dr Elijah Odoyo-June, who led the research at the Nyanza Reproductive Health Society in Kisumu.
There were also signs that men were having more sex after circumcision. "There is a subjective belief that they perform better – it is common among men and women. It is a good myth for encouraging men to come – but it is not good if it leads to more unprotected sex," he added.
READ MORE  on  Case study: David Mvula
READ MORE on