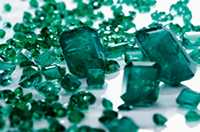 Gemfields   has broken two records at another successful auction of its rough emerald and beryl in Lusaka.
The firm has now completed three auctions in Zambia in the last eight months.
In the latest, held from November 11 to 15, revenues came in at US$16.4 million –  a record for lower grade auctions, while the average per carat price was US$3.32 – a 27% increase on the company's previous record.
Notably, Ian Harebottle, the chief executive, said that from the three auctions this year, the group's auction revenues in the year to date have been US$56.4 million –  more than the firm's all-sources revenue of US$ 48.4 million for the year to June 30, 2013.
"Our emerald efforts remain focused on supporting the sustained increase in demand for Zambian emeralds as the globally favoured emeralds of choice, underpinned by our operational investments and international marketing efforts.
"The key is for Zambia to increasingly be recognised as a competitive, reliable and trusted source of ethically produced gemstones," he said.
The auction saw 5.6 million carats of emerald and beryl extracted from the company's Kagem Mine in Zambia on offer, with 19 of the 21 lots – or 4.9mln carats – offered sold.
The firm added that market conditions remain robust.