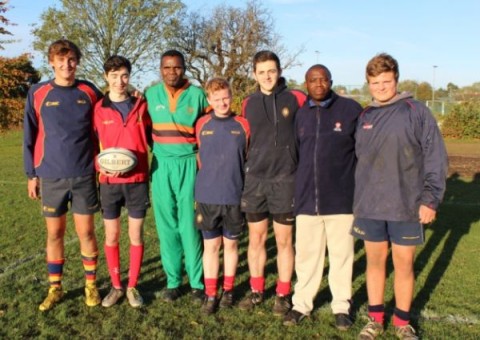 Two members of the Zambian Rugby Union have been visiting Wisbech Grammar School to pick up skills that they can pass on to schools back in their home country.
National rugby development officer Joseph Ingwe and referee Caution Bweupe have spent three days at the school as part of the Loughborough sports Boost coach development programme after observing Rugby Football Union national academy coaches working with England Under 17 and Under 18 players.
The Zambia initiative was set up by the school's head of rugby, Alex Laybourne, when he worked at Loughborough running the programme and he spent two months in the southern African country to help to establish the scheme.
During their stay they have helped at rugby sessions with the 1st XV and Under 15, Under 12 and Under 11 sides and they were also involved with some introductory work for first form girls who have never played rugby before. They also observed lessons in swimming and gymnastics, as well as taking part in a weights room session.
Laybourne said: "They have been working with me to understand how rugby is run in schools and in order that I can do some teacher and coach education with them, so that they can take knowledge and skills gained back with them and cascade the positive effect within their country.
"I am also helping them with their International Rugby Board strategic plan, which is being put together with input from Zambia, Loughborough and a number of other key stakeholders looking to help develop rugby in Zambia."