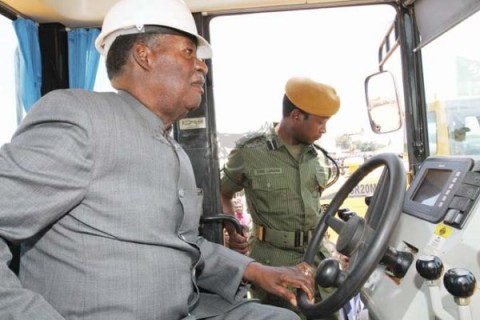 COPPERBELT Minister Mwenya Musenge has summoned the provincial building engineer over the poor rehabilitation works at the Presidential Guest House in Kitwe.
Mr Musenge said he had summoned both the provincial and the Kitwe district engineer to explain why the contractor Mercury Lines Limited has allegedly failed to work according to Government specifications.
He said it was unfortunate that the Presidential Guest house situated in Ndeke Township has not been rehabilitated according to the standard befitting the status of a Presidential Guest House.
The Minister told journalists in Kitwe that the contractor did not have the capacity to work on the Presidential Guest House.
"President Sata is right in condemning the works which have been done at the Presidential Guest House so far and I have since summoned the provincial building engineer to my office," he said.
Mr Musenge advised local contractors to provide quality work and avoid tarnishing the image of contractors who have proved to be real partners in development.
On Tuesday, after launching the construction of the Kitwe-Chingola dual carriageway, President Sata expressed disappointment at the poor state of the Guest House.
Mr Sata took to task Mr Musenge, Transport, Works, Supply and Communication Minister Yamfwa Mukanga and Kitwe District Commissioner Elias Kamanga for the shoddy works being done at the guest house.