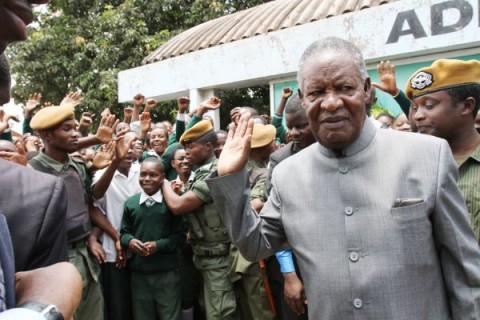 THE Zambia Congress of Trade Unions (ZCTU) and the Council of Churches in Zambia (CCZ) want President Sata to step in and pull brakes on the intra-party fights in the PF that led to the death of a cadre named Moses Simwela last Thursday.
The trade union movement and Church call is echoed by some parliamentarians from the left, who also called on police to make some arrests of culprits and bring closure to the matter.
The calls were led by Kalomo Member of Parliament Request Muntanga who said, "You [police] have taken three days to make an arrest of a suspect or suspects when in the case of the Livingstone you arrested 72 people in one day."
Mr Muntanga described as unfortunate the party's decision to stay quiet in the face of the death of "one of your own…you [police] get pangaz [machetes] and knives and leave suspects on the streets."
ZCTU and CCZ, on the other hand, said yesterday that President Sata needs to intervene and bring an end to the in-fighting in the ruling party.
ZCTU president Leonard Hikaumba said at a press briefing in Lusaka yesterday that President Sata should use his powers to put an immediate end to the violence in PF.
"The President must put an immediate end to this barbarism because it is a great threat to democracy, the rule of law and national development," Mr Hikaumba said.
Mr Hikaumba said PF members must learn to manage their problems in a mature and democratic manner without endangering other people's lives.
"Civil wars in some countries were started by political differences within and outside political parties and we do not want the 49 years of peace to be cancelled by the interests of a few selfish individuals," he said.
Mr Hikaumba said issuing statements by the top PF leadership is not enough without taking appropriate action.
"The police should not only investigate but must arrest those involved," he said.
And CCZ general secretary Suzanne Matale said: "The Church is calling upon President Sata to use his authority to bring this lawlessness among his people to an end because he alone can bring order in the party before the country becomes ungovernable."
Reverend Matale said the Church believes the PF is not doing enough to address the warring factions that are now hacking each other with machetes.
"It is totally unacceptable for people to continue dying as a result of political violence," Rev Matale said.
And CLAVER MUTINTA reports that Minister of Home Affairs Edgar Lungu yesterday told Parliament that it is not the policy of the Patriotic Front (PF) government to encourage lawlessness in Zambia.
Winding up debate on budgetary allocation for Zambia Police Service in Parliament last evening, Mr Lungu said his ministry has condemned the recent political violence.
The minister assured that Government would not interfere in investigations of the violence that led to the murder of a PF cadre.