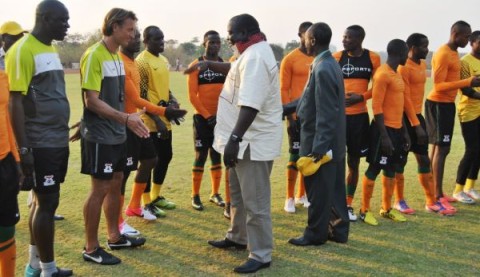 SPORTS Minister Chishimba Kambwili has said his ministry has started the process of setting up an anti-doping unit which, once fully fledged, will see random checks conducted on sportsmen and women.
Speaking after the official opening of the World Conference on Doping in Sport 2013 in Johannesburg, South Africa, yesterday, Kambwili said the anti-doping unit would be established in Lusaka with technical co-operation from Cuba.
According to a statement released by First Secretary for Press at the Zambian High Commission in South Africa, Paston Chilemba, Kambwili said his ministry had already set up an interim committee on anti-doping and was being represented by the director of sports.
The minister said Zambian sportsmen and women sometimes lost in international competitions not because they were unable to win, but because the competitors used unfair means of using illegal performance enhancement substances.
Kambwili said dagga smoking was one of the main vices in sport in Zambia especially that most athletes believed that the substance would enhance their performance.
He said the sport needed genuine winners and not fake ones.
"Once we establish this anti-doping unit we will be doing it at random, like visiting some local  football clubs at random and picking the samples so that we can fight this scourge.
"This is targeted at all the athletes in the country. Everybody must be well aware that the use of these unacceptable substances is an offence in sports," he said.
Meanwhile, International Olympic Committee president Thomas Bach said the fight against doping should be fought with more determination to safeguard the future of sport.
World Anti-Doping Agency (WADA) president John Fahey said the organisation had over the last two years seen one of the most collaborative and coordinated exercises which had helped shape the future of anti-doping in sport.
South Africa's Minister of Sport and Recreation Fikile Mbalula said his country had shown 'a show of force' in the implementation of programmes of action by WADA by signing a number of international agreements and anti-doping strategies to combat doping in sport.
The World Conference on Doping has attracted representation from Governments and reputable organisations the globe.