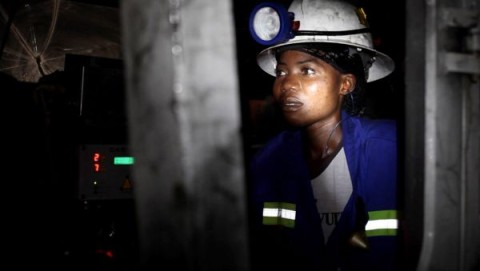 Zambia's biggest mining union agreed to a 12 percent wage increase with Jinchuan Group Ltd. in a deal that sets a benchmark for the rest of the industry in Africa's biggest copper producer.
The first 2014 pay agreement for the nation's mining companies covers workers at the Chibuluma mine, Joseph Chewe, secretary general of the Mineworkers Union of Zambia, said by phone from Lusaka, the capital, today. Jackson Sikamo, general manager at Chibuluma, confirmed the wage deal by e-mail.
When China Nonferrous Metals Co. signed a 10 percent pay increase last December, companies including the local units of Glencore Xstrata Plc (GLEN), Barrick Gold Corp. (ABX) and Eurasian Natural Resources Corp. later agreed to the same increment. The union is continuing talks with other firms, including First Quantum Minerals Ltd. (FM), and most of them have made offers, said Chewe.
"On average, we are asking for 20 percent to 30 percent," he said. "If we get 12 to 15 percent on average, 20 percent, we will do justice to our members."
The union last year asked for wage increases of as much as 50 percent before settling for 10 percent at most companies.
The negotiations come as Zambia canceled the work permit of the chief executive officer of Vedanta Resources Plc (VED)'s local unit, Konkola Copper Mines Plc. Konkola announced plans to dismiss 1,529 workers, before yesterday apologizing to the country's president, Michael Sata, and saying it fully respects his directive not to fire employees.
To contact the reporter on this story: Matthew Hill in Lusaka at [email protected]
To contact the editor responsible for this story: Antony Sguazzin at