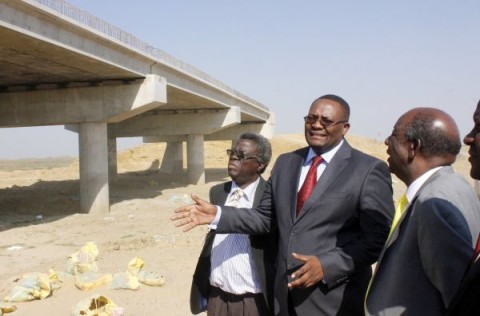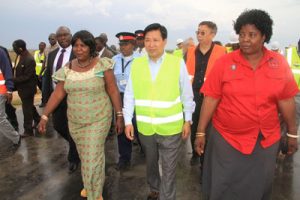 On 5th November 2013, Chinese Ambassador to Zambia H.E. Mr Zhou Yuxiao inspected the Mongu-Tapo Road which is being built by AVIC International in Mongu, Western Province of Zambia. H.E. Gilles Hervio,European Union Ambassador to Zambia, Mr. Freddie Kwesiga, African Development Bank Resident Representative to Zambia, Hon. Josephine Limata, Minister of Western Province, and Mr. Amos Malupenga, Permanent Secretary of Western Province were also on the trip.
Amb. Zhou expressed his satisfaction over the quality and progress of the project. He advised the company to appropriately manage labor issues and continue to carry out corporate social responsibilities. He pointed out that the completion of the road will greatly expand trade between Zambia and its neighbour Angola, and further promote social and economic development of Zambia as a whole.
Amb. Zhou assured that China is a reliable partner of Zambia and she will continuously support Zambia's development. He said that the Chinese companies should abide by the laws of Zambia and respect the cultural traditions of Zambia, while local Zambians should settle differences with Chinese companies in the spirit of mutual-support and mutual-accommodation, so that sustainable development can be obtained under the spirit of win-win cooperation.
Amb. Zhou also answered questions on the Mongu-Tapo Road and Chinese investments in Zambia from ZANIS reporters.