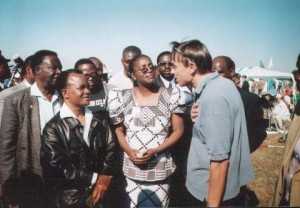 Open Society Foundation says President Michael Sata's instruction to erect a mausoleum at second republican president Dr Fredrick Chiluba's tomb is both commendable and long-overdue.
OSF Executive Director Sunday Chanda says President Sata should go further and honour the late Dr Chiluba's legacy as one of the country's best Trade Unionists and for his 10 year Presidency.
Mr Chanda says the Late President Chiluba could have made his mistakes like any other President does, but that he equally did a lot of good and made some major decisions which laid a strong foundation for today's Zambia.
He adds that Dr Chiluba's contributions to making Zambia a better country today than it was in the 1980's do not need to be over-emphasized.
Mr Chanda says OSF believes that President Sata will be putting Zambia's history in its correct context if he can grant the same honour given to first President Dr. Kenneth Kaunda to late President Chiluba's legacy posthumously.
He has called on President Sata and his government to identify projects of national significance and name some of them in the honour and memory of late Dr Chiluba.
He adds that Government must set a standard for honouring its leaders irrespective of their political affiliation and the same should extend to late President Levy Mwanawasa and former President Rupiah Banda.
Mr Chanda says the nation and Government should remain mindful of some elements within society with an agenda to demean and bury Dr Chiluba's legacy forever.
He states that there are elements whose agenda is to maximize Dr Chiluba's shortfalls and minimize his contributions to Zambia, both as a Union leader and as President.
He further states that Zambia must be aware of elements who seek to vilify Dr Chiluba even in his grave, and has appealed to President Sata not to allow such injustice to succeed because posterity will judge this generation harshly.