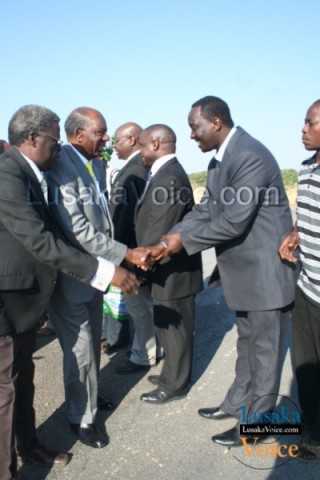 Six months after President Michael Sata commissioned construction works of the 20, 000 sitter Ultra- Modern Mongu Stadium, works on the project have not yet commenced.
This development has saddened Mongu residents in Western Province who have charged that President Michael's pronouncement of the development was a mare political trick.
Manyando Mubita a business man at Mongu Central Market told Lusakavoice in an interview that the idea to construct the modern stadium was welcome stressing that President Sata should honor his promise to the people of Western Province.
Mr. Mubita says he was disappointed with the lack of government's commitment to a project that that was publicly declared by the President.
"The PF government has disappointed us, the idea of coming up with a stadium was initiated by our beloved President Mr. Michael Chilufya Sata, and knowing how he works I was very sure that we would begin to see some works soon after he commissioned the project in April right here in Mongu this year," Mubita noted."
Mr. Mubita wondered why government has left the land on which the stadium is expected to be built to lay idol for months after commissioning was already done.
And a senior citizen Kwalombota Litaba appealed to government to quickly begin the long awaited works of the project.
Mr. Litaba said if the stadium is built in the province, it would help uplift the economic and social status of the province permanently.
He explained that youths and the business community will greatly benefit from the construction of the stadium adding that people were still expectant of the massive developmental opportunities that will come with the stadium.
"For me this project is a massive developmental engine for this province, there for I still have hope that government implements this project," said Litula.
President Michael Sata last year directed Sports Minister Chishimba Kambwili to set up an Ultra-Modern Stadium whose works he (President Sata) commissioned in April this year in Mongu, Western Province.
Mongu Municipal Council allocated 50 hectors of land at Kasima area, to the Ministry of Works and Supply on which the stadium is expected to be built.
Government has already spent undisclosed amount of money that was used to clear the land that has had not activities yet.
T.M