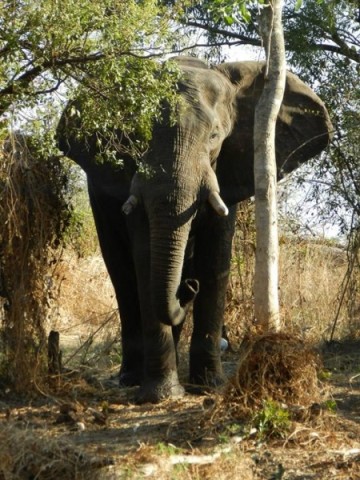 The Univisa, a single southern African visa that enables visitors to seamlessly travel throughout the region, could soon become a reality. Several countries showed their commitment to the Univisa during a meeting at the United Nations World Tourism Organization (UNWTO) general assembly earlier this year in Victoria Falls, on the Zambia-Zimbabwe border. This month, the Regional Tourism Organization of Southern Africa (Retosa) identified Zimbabwe and Zambia as the pilot countries to start implementing the common visa project.
According to Kwani Donko, Retosa's director for marketing and communication, it is high time that the region embraced multi-country packaging to attract more tourists to the region. "We have great diversity, wildlife and a great people," he said. "We need to start marketing our 15 countries under one package. I urge international buyers to start selling the region as one."
Marion Bohling, managing director at Destination Zambia, agrees and explains a common visa would make the destination more attractive. "Time spent at borders would be greatly minimized, and travelers would get a more pleasant and seamless experience, especially in countries where delays can arise due to power failures and system failures etc.," she said.
She added the collective regional marketing opportunities are endless when a common visa becomes a reality, as the region can market itself through the Uni-Visa concept. "This could lead to further collaboration in marketing and products," Bohling said. "Tourists will start opting for multi-destinations instead of stand-alone destinations. Africa is an extremely diverse continent. A diverse experience may lead to returning visitors: so much to see and so little time."
A common visa would undoubtedly boost tourism to the region, according to tourism industry players, as they claim the current bureaucracy associated with visas can be challenging.
Daryl Keywood, managing director of Walthers DMC in South Africa, explained, "We need to accept that someone visiting southern Africa looks at the region as a whole and not just as one country. When traveling as far as one does to visit our part of the world, a visitor will often want to pack in as many of the regional highlights as possible in one trip."
According to Keywood, passport issues and visas are definitely a hindrance to travel. "We need to make it as simple as possible for visitors so as to not discourage them and push them away to other destinations that have simpler requirements," he said.
U.S. travelers aren't deterred by the cost of the visas per se, according to Rose Loggi, a travel consultant with TravelBeyond. However, she admits a Univisa might encourage travelers to visit more than one country while they are in the region, since they will not have to spend additional money purchasing multiple visas.
In addition, a Univisa may offer the perception that it's easier to travel between countries, according to Loggi. "I don't think that a Univisa will necessarily increase tourism overall, but it may encourage travelers already planning on visiting one of the countries to extend their stay in the region," she said.
Following in the footsteps of the southern African states, the East African Community (EAC) partner states have also announced they may soon waive fees for tourists to Rwanda, Kenya and Uganda. Rica Rwigamba, head of conservation and tourism at Rwanda's Development Board, said, "The tourism sector will grow considerably if both the visa and the fee impediments are removed."
The common Visa would definitely be a step in the right direction, said Mohammed Hersi, chairman of the Mombasa & Coast Tourism Association. He explained the current red tape is not helping matters, adding, "It's high time the EAC countries stopped aiming for visa fees as revenue, instead of focusing on the U.S.$50 they should look at the bigger picture: U.S.$1500 and more spend by a tourist once they get there."
Roni Madhvani, director of Madhvani Group, one of the largest private-sector groups in East Africa, agreed.
"It would make travel within the region hassle-free and less bureaucratic than having to apply for visas for each country, and it would enable a degree of flexibility to the travel plans themselves," Mandhavi said.