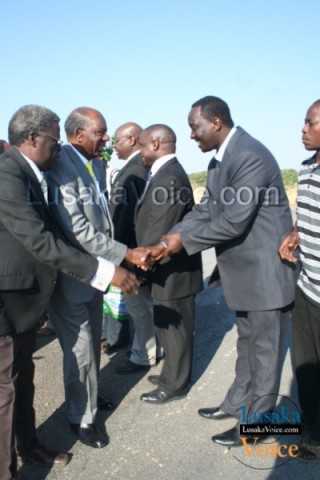 Patriotic From Members in Mongu, Western Province have demanded for the dismissal of recently appointed Provincial Permanent Secretary  Amos Malupenga whom they have accused of disrespecting party structures as well as working against President Sata's administration.
Provincial Party Chairman Kenneth Namutulo alleged that Mr. Malupenga has ignored the President's directive of always including PF party leadership in all government programmes.
Mr. Namutulo explained that since Mr. Malupenga assumed office numerous government programmes have been held without him (Namutulo) being notified.
"this man should go because he is not working with our party as per Presidential directive, from the time he came, a lot of meetings have been held without me being invited, even Ministers have come and gone back to Lusaka in my up sense,"said Namutulo.
Meanwhile, PF members together with their party leadership took to the street to demonstrate against the recent deployment of staff in newly created districts in the province citing corruption and nepotism.
They marched from their party secretariat office to the Permanent Secretary's office.
The members led by senior party leadership both at provincial and district levels accused the provincial administration and district commissioners in the new districts of engineering the employment process of non-civil service jobs which they said disadvantaged party members and local youths.
Speaking on behalf of the demonstrators, Mr. Namutulo said the district commissioners only submitted names of their relatives and girlfriends for employment charging that they ( DCs) were not looking at the interest and success of the party any more.
He also alleged that the provincial administration ferried people from outside Western Province to fill in the positions of drivers and security guards respectively.
In response Mr. Malupenga told the demonstrators that their grievances would be looked into.
M.T