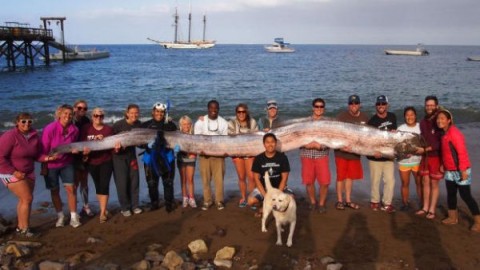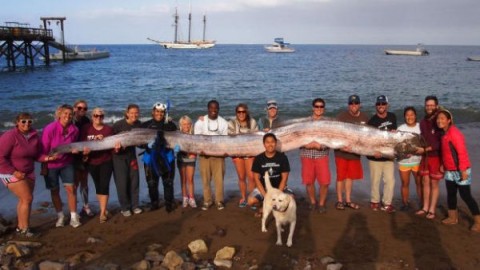 This photo released courtesy of the Catalina Island Marine Institute taken on Sunday Oct. 13, 2013, shows the crew of sailing school vessel Tole Mour and Catalina Island Marine Institute instructors holding an 18-foot-long oarfish that was found in the waters of Toyon Bay on Santa Catalina Island, Calif. A marine science instructor snorkeling off the Southern California coast spotted the silvery carcass of the 18-foot-long, serpent-like oarfish.
"We've never seen a fish this big," said Mark Waddington, senior captain of the Tole Mour, CIMI's sail training ship. "The last oarfish we saw was three feet long."
Because oarfish dive more than 3,000 feet deep, sightings of the creatures are rare and they are largely unstudied, according to CIMI.
The obscure fish apparently died of natural causes. Tissue samples and video footage were sent to be studied by biologists at the University of California, Santa Barbara.
Santana spotted something shimmering about 30 feet deep while snorkeling during a staff trip in Toyon Bay at Santa Catalina Island, about two dozen miles from the mainland.