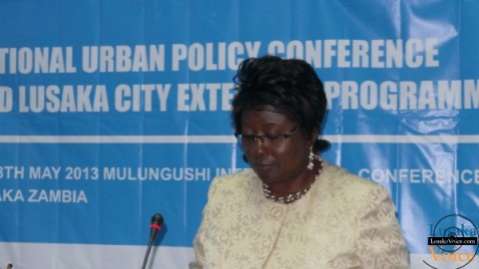 PARLIAMENT yesterday heard that Government has so far disbursed K72.8 million worth of Constituency Development Fund (CDF) to 56 constituencies countrywide.
Local Government and Housing Minister Emerine Kabanshi told the House that the remaining K122.2 million for 94 constituencies would be released before December 31, 2013.
Ms Kabanshi explained that the Government had not released CDF to the remaining 94 constituencies because of the late submission of expenditure returns for the 2012 allocation, which was the basis for the release of the 2013 funds.
"The absorption of the CDF is very slow and once the constituencies utilise the money and provide the expenditure returns, we will be able to disburse the money," she said.
Ms Kabanshi said this in response to a question by United Party for National Development (UPND) Mwembeshi Member of Parliament (MP) Austin Milambo, who questioned the minister about how many constituencies had received the 2013 CDF as at August 31, this year.
Mr Milambo also wanted to know what factors were inhibiting the Government from disbursing the CDF to the remaining constituencies and when the money would be disbursed.
He also asked when the CDF for his constituency would be released.
Ms Kabanshi assured the MPs that all the remaining constituencies, including Mwembeshi, would receive this year's allocation by December 31, 2013.
She, however, could not state the particular constituencies that received the money but promised that she would furnish the MPs with the list of constituencies that had got the allocation so far.
This was after a follow-up question by MMD Keembe MP, Ronnie Shikapwasha who wanted to know the specific constituencies that had so far received the CDF for 2013.
And Information and Broadcasting Services Minister Mwansa Kapeya said the PF Government had in the last two years empowered the people with information so that they could make informed decisions in their lives.
Mr Kapeya said this in contribution to the debate on the speech President Michael Sata made during the official opening of the third session of the 11th National Assembly two weeks ago.
He said to achieve this, the Government undertook a wide range of measures such as the operationalisation of the Independent Broadcasting Authority.
Mr Kapeya said the Government had also embarked on modernising the public media namely, Times of Zambia, Zambia Daily Mail, and the Zambia National Broadcasting Corporation in line with the current global media trends.
"This includes, among other interventions, establishing the public media's presence on the social media platform such as the Internet and Facebook for enhanced and widened public access to information," Mr Kapeya said.
He said the Government had also managed to de-politicise the public media to induce professionalism and editorial independence in the newsrooms.
The minister said the Government had also revived the local language newspapers as an important vehicle for information dissemination to the public.