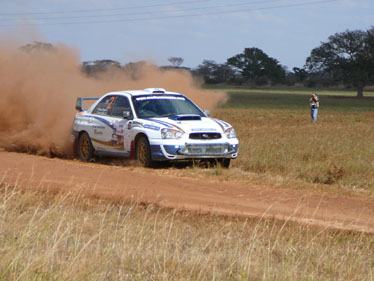 ZAMBIA's motor rally prodigy, Muna Singh junior has missed the cut to make a glorious entry into the world motorsport authority (FIA) Young Driver Excellence Academy after being beaten to the top spot by South African Kelvin Van der Linde in Pretoria, South Africa.
Muna, 18, was hoping to break into the elite academy which is fully funded by the Fédération Internationale de l'Automobile (FIA) and follow in the footsteps of previous participants in the Academy who have gone on to drive in Formula-One and the World Rally Championship.
But the three strenuous days of competition and the challengers proved a bit too much for the teen Zambian driver as he succumbed to the 17-year-old South African who won the big ticket as African champion.
Muna junior was gracious in defeat saying he did not just lose, but also gained valuable knowledge about the sport that will positively impact his blossoming career.
"I didn't manage to get into the elite academy. I think I just tried too hard but I am not sad about the outcome.
The fact that I have learnt a lot out of this experience is the main thing and I was just so privileged to get an opportunity like this one.
"There  are many points that I have learnt that will affect my driving in a positive way, and that is not only in rally but also on normal public roads," he said.
He said his attention would now be shifted to the Zambia Motor Rally season which will next weekend hold the Monze rally where he promised to use his latest acquisition, the left-hand-drive Subaru Impreza N10, in action.