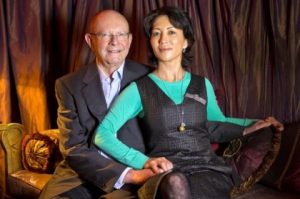 Adventure writer Wilbur Smith has escaped death so many times he's lost count. He contracted cerebral malaria as a newborn in northern Rhodesia, now Zambia, and wasn't expected to live past a few days. He had polio as a teenager. He says he's been charged by elephants, sharks and crocodiles, and claims that he's been shot—accidentally—three times. "That's on the sporting field, not by a jealous husband, I assure you," he says. "I still have a birdshot pellet in my nose."
On paper, Mr. Smith seems like a rash, swashbuckling character straight out of one of his adventure novels. His books, which often take place in ancient Egypt and colonial Africa, feature raging bull elephants, kings and slave traders and beautiful women in peril. In reality, however, Mr. Smith is much more of a pragmatist. At age 80, he's entering what could be the most prolific and lucrative phase of his career.
Last year, Mr. Smith signed a $24 million, six-book contract with HarperCollins. For some of the books, he'll be teaming up with co-authors. He's aiming to increase his output and build a bigger American audience by teaming up with U.S. writers and setting some of his books here, he says.
Mr. Smith published his first book, "When the Lion Feeds," in 1964. He wrote it while working as a tax accountant in South Africa. "I wrote my first book on income tax forms," he says. He's gone on to write 34 books that have sold more than 122 million copies globally. His latest, "Vicious Circle," is a thriller about a British security expert who exacts revenge on a Somali warlord. He spoke by phone with The Wall Street Journal about courting American readers, posthumous publishing and the worst thing he's ever eaten (lion). Below, an edited transcript.
When the news broke that you're going to start using co-authors, there were some snarky headlines in U.K. publications about how you're "getting paid not to write." How much will you actually be writing?
It's going to be a learning process for me and whoever I'm working with. I imagine we will take existing characters from the 34 novels that I've written over the years. I will depend on the co-author to come up with a story line to carry that character forward.
So you'll be publishing two books a year?
That's my agents and publisher setting a target for me. Two books a year is a lot of books. On the other hand, James Patterson writes four or five or six books a year. I think two books a year would be pushing it, but we'll see.
You seem to have done quite well in publishing, even before this latest big contract, with homes in London, Cape Town and Switzerland.
They tell me that I've sold between 120 million and 150 million [copies]. But that doesn't convert into dollars. I've been told that I have more money in the bank than I'll ever dream of, and it's not true. The journalistic guesses are way off. It's either far too much or far too little.
READ MORE ON SOURCE