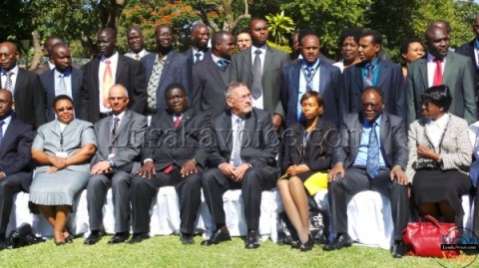 VICE-President Guy Scott has said Government is working hard to narrow the gap between the rich and the poor in Zambia.
Dr Scott has also hailed the existing strong ties between the Catholic Church and the Patriotic Front (PF) Government in addressing poverty in the country.
Speaking when he addressed congregants at Kapesha Catholic Church in Mansa yesterday, Dr Scott observed that both the Church and Government were pursuing the same agenda of development.
He revealed to the congregants that because of Government's concern for the poor, he had opted to reject an earlier pre-arrangement for him to attend Mass at the cathedral located in the central business district.
"We rejected going to the cathedral, we opted for Kapesha because that is where the poor people like you who voted for us live," he said.
Dr Scott stressed the importance of maintaining peace in the nation, adding that the Government was ready to deal with those 'hell bent' on bring unnecessary confusion.
He said the PF Government was still in charge of running the affairs of the nation to ensure peace prevailed.
At the same function, Local Government and Housing Minister Emerine Kabanshi urged women, as majority voters in Zambia, to take a leading role in matters of health, sanitation and infrastructure development which directly affected them.
Ms Kabanshi said women should be united as they work for their rightful position in society.
Dr Scott and his entourage flew back to Lusaka yesterday after a three-day visit to Luapula which saw him inspect and launch several developmental projects, meet traditional leaders and address rallies.