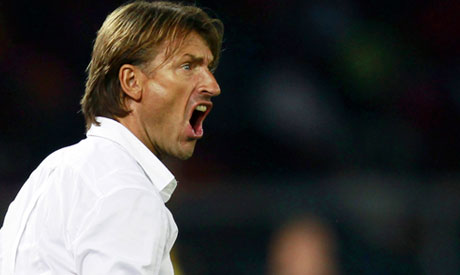 AFRICA Cup -winning coach Herve Renard has poured scorn at under-achieving local coaches in the habit of criticising him, saying they should put up or shut up.
The Zambia trainer wondered why some coaches were mute when the Chipolopolo won the Africa Cup of Nations title in
2012, lifted the Nelson Mandela Challenge last year and triumphed in the COSAFA Castle Senior Challenge Cup this year.
"It is funny. We never heard them after winning some trophies," he said in Lusaka yesterday.
Renard has of late been subject of criticism following Zambia's failure to qualify for the 2014 World Cup after losing 1-2 to Ghana in the last of the penultimate qualifying series.
On Wednesday, former Zambia under-20 and under-23 national team coach Ronald Chinku observed in his write-up in the Daily Mail that Renard has run out of ideas and that his contract should not be extended.
"They [coaches] can do it [criticise], no problem. They are just expecting to have a chance to get the job. This is part of the game. But they will never remove me.
"They have never won anything in their coaching life and they criticise. They can continue, no problem," Renard said.
The charismatic Frenchman went further to highlight the country's football successes.
Brightwell Banda guided Zambia to victory at the 1984 CECAFA Cup, Freddie Mwila senior tutored Power Dynamos and won the Nelson Mandela Cup in 1991 and Zambia won the CECAFA Cup in 1991 under the tutelage of Samuel 'Zoom' Ndhlovu.
George Mungwa and Fighton Simukonda triumphed in the COSAFA Cup in 1997 and 1998, respectively, and Patrick Phiri engineered the Chipolopolo's victory at the CECAFA Cup in 2006.
"That's all before 2008, so please, be fair and realistic about Zambian football," Renard said.
After masterminding Zambia's victory at the Africa Cup in Libreville, the Confederation of African Football named Renard as 2012 coach-of-the-year.